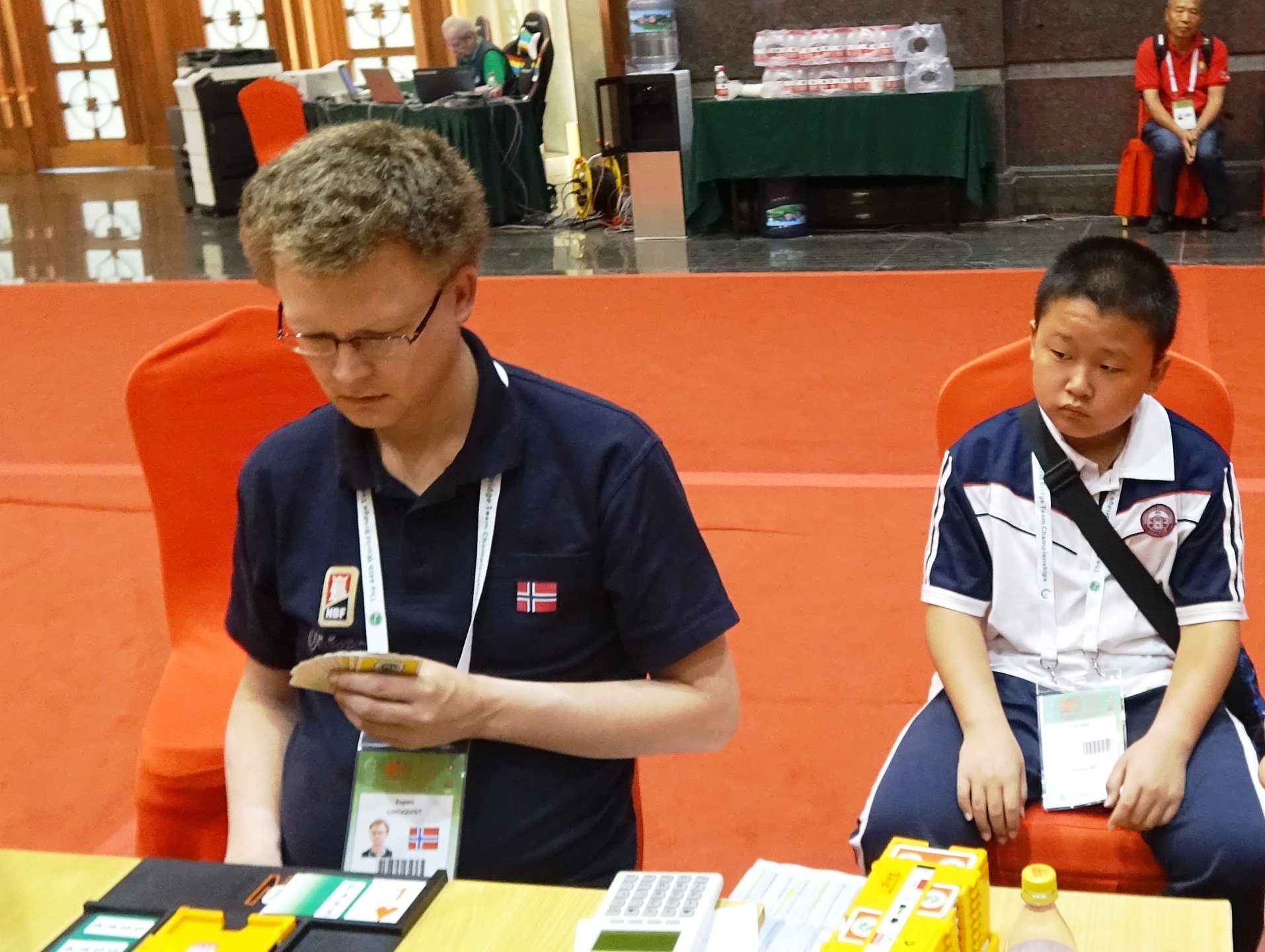 September 22,  2019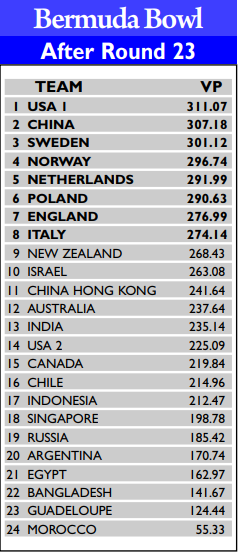 After the first match of the day and with only one single round to play, three countries depended on their results to be ranked 8. Israel who had started the day in the seventh place had a forgetable first match losing against Canada which left him in the ninth spot. Italy also had a bad start, they lost to New Zealand which led them to the tenth place and New Zealand to the

eighth

!!!!. The draws for the last match of the day and the RR were:
Italy-Argentina
Israel – Egypt and
New Zealand -Netherlands.
At the end of the last 16 boards Italy managed to win enough VPs to climb to the

eighth

step and both Israel and New Zealand were left without that precious place.
This is how the daily Bulletin described the situation:
It's not easy making the cut for the knockout phase of the Bermuda Bowl, Venice Cup, d'Orsi Senior Trophy or Mixed Teams. The qualifying teams had to survive eight days of three 16-board matches — 368 deals in total — to finish the round robin in the top eight of whatever bracket they were in, not to mention having to contend along the way with seasoned players hungry for a chance to win a world championship. The round robin chase is finally over and the happy qualifiers are preparing to do battle, starting today, one on one, with the winners moving on and the losers contemplating other opportunities. USA 1 led the qualifiers in the Bermuda Bowl. China was No. 1 on the qualifying list in the Venice Cup. USA 2 moved from second to first on Sunday in the d'Orsi Seniors Trophy, overtaking India, the leader for most of the round robin. England heads the list of qualifiers in the Mixed Teams.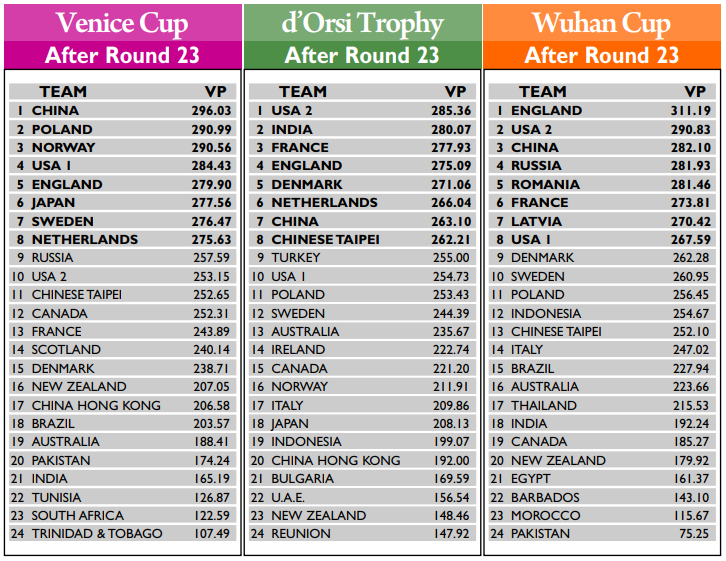 QF Draws
Bermuda Bowl 
| | | | |
| --- | --- | --- | --- |
| USA 1- ENGLAND | NORWAY- ITALY | CHINA -POLAND | SWEDEN- NETHERLANDS |
CHINA Gang CHEN, Linlin HU, Chuancheng JU, Yinghao LIU, Zheng Jun SHI, Zejun ZHUANG, Jihong HU captain, Kai ZOU coach
ENGLAND Jeffrey ALLERTON, David BAKHSHI, Tony FORRESTER, Chris JAGGER, Artur MALINOWSKI, Andrew ROBSON, Neil ROSEN captain, Andrew MURPHY coach
ITALY Norberto BOCCHI, Giorgio DUBOIN, Lorenzo LAURIA, Agustin MADALA, Antonio SEMENTA, Alfredo VERSACE, Maria Teresa LAVAZZA captain, Massimo ORTENSI coach
NETHERLANDS Simon DE WIJS, Bob DRIJVER, Bauke MULLER, Bart NAB, Ricco VAN PROOIJEN, Louk VERHEES Jr, Anton MAAS captain, Ton BAKKEREN coach
NORWAY Terje AA, Boye BROGELAND, Nils Kare KVANGRAVEN, Espen LINDQVIST, Allan LIVGARD, Ulf Haakon TUNDAL, Christian VENNEROED captain, Sten BJERTNES coach
POLAND Krzysztof BURAS, Bartosz CHMURSKI, Jacek KALITA, Grzegorz NARKIEWICZ, Michal NOWOSADZKI, Piotr TUCZYNSKI, Marek PIETRASZEK captain, Marek WOJCICKI coach
SWEDEN Simon EKENBERG, Simon HULT, Fredrik NYSTROM, Mikael RIMSTEDT, Ola RIMSTEDT, Johan UPMARK, Jan LAGERMAN captain
USA 1 Ralph KATZ, Robert (Bobby) LEVIN, Jeff MECKSTROTH, Nick NICKELL, Eric RODWELL, Steve WEINSTEIN, Jill LEVIN captain, Eric O. KOKISH
Venice Cup
| | | | |
| --- | --- | --- | --- |
| CHINA -JAPAN | USA 1 -SWEDEN | NORWAY- NETHERLANDS | POLAND -ENGLAND |
CHINA Yan LIU, Yan LU, Qi SHEN (1), Nan WANG, Wen Fei WANG, Xiaoxue ZUO, Xiaojing WANG captain, Xiaojing WANG coach
ENGLAND Heather DHONDY, Catherine DRAPER, Gillian FAWCETT, Nevena SENIOR, Nicola SMITH, Yvonne WISEMAN, David GOLD captain, David BURN coach
JAPAN Yuki FUKUYOSHI, Toshiko KAHO, Ruri KATO(OTE), Ayako MIYAKUNI, Makiko SATO, Akiko YANAGISAWA, Kazuo FURUTA captain
NETHERLANDS Merel BRUIJNSTEEN, Laura DEKKERS, Jet PASMAN, Anneke SIMONS, Wietske VAN ZWOL, Martine VERBEEK, Aarnout HELMICH captain, Peter IJSSELMUIDEN coach
NORWAY Ann Karin FUGLESTAD, Liv Marit GRUDE, Marianne HARDING, Torild HESKJE, Bodil Nyheim OIGARDEN, Gunn Tove VIST, Anne-Lill HELLEMANN captain, Jon-Egil FURUNES coach
POLAND Cathy BALDYSZ, Sophia BALDYSZ, Katarzyna DUFRAT, Danuta KAZMUCHA, Anna SARNIAK, Justyna ZMUDA, Miroslaw CICHOCKI captain, Marek WOJCICKI coach
SWEDEN Kathrine BERTHEAU, Sanna CLEMENTSSON, Ida GRONKVIST, Jessica LARSSON, Emma OVELIUS, Cecilia RIMSTEDT, Kenneth BORIN captain, Carina WADEMARK coach
USA 1 Lynn BAKER, Irina LEVITINA, Karen McCALLUM, Kerri SANBORN, Sylvia SHI, JoAnna STANSBY, Sam DINKIN captain, Beth PALMER coach
d'Orsi Trophy
| | | | |
| --- | --- | --- | --- |
| USA 2-NETHERLANDS | FRANCE-DENMARK | ENGLAND-CHINA | INDIA-CH. TAIPEI |
CHINA Yixiong LIANG, Rongqiang LIN, Mingkun SHEN, Xiaonong SHEN, Ming SUN, Jian Hua TAO, Rongqiang LIN captain, Jian Hua TAO coach
CHINESE TAIPEI Chung Mou CHANG, Jen-Chien CHUNG, Patrick K. H. HUANG, Chii-Mou LIN, Juei-Yu SHIH, Chen YEH, Shu-Ping YEH TONG captain
DENMARK Knud-Aage BOESGAARD, Soren CHRISTIANSEN, Henrik Norman HANSEN, Jorgen Cilleborg HANSEN, Hans Christian NIELSEN, Steen SCHOU, Bo Loenberg BILDE captain
ENGLAND John HOLLAND, David KENDRICK, Alan MOULD, David MULLER, Malcolm PRYOR, Trevor WARD, David S JONES captain
FRANCE Michel ABECASSIS, Guy LASSERRE, Michel LEBEL, Alain LEVY, Philippe POIZAT, Philippe SOULET, Eric GAUTRET captain, Solange D'ELBEE coach
INDIA Sukamal DAS, Subhash DHAKRAS, Dipak PODDAR, Subrata SAHA, Jitendra SOLANI, Ramamurthy SRIDHARAN, Vinay DESAI captain, Anal SHAH coach
NETHERLANDS Hans DE VRIND, Leo HOFLAND, Andre MULDER, Frans TEN BRINK, Bas VAN DER HOEK, Hans VERGOED, Schelte WIJMA captain
USA 2 David BERKOWITZ, Steve GARNER, Mark LAIR, Michael ROSENBERG, Alan SONTAG, Jeff WOLFSON, Lisa BERKOWITZ captain
 Mixed Teams (Wuhan Cup)
| | | | |
| --- | --- | --- | --- |
| ENGLAND-LATVIA | RUSSIA-FRANCE | CHINA-USA 1 | USA 2-ROMANIA |
CHINA Jien CHEN, Zhengjiang LIAO, Ping WANG, Haotian WU, Shaohong WU, Zhaobin XIE, Bangxiang ZHANG captain, Bangxiang ZHANG coach
ENGLAND Sally BROCK, Fiona BROWN, Michael BYRNE, Frances HINDEN, Barry MYERS, Graham OSBORNE, Paul BARDEN captain
FRANCE Benedicte CRONIER, Philippe CRONIER, Nathalie FREY, Daniele GAVIARD, Jerome ROMBAUT, Frederic VOLCKER, Francois COMBESCURE captain
LATVIA Jelena ALFEJEVA, Janis BETHERS, Maija ROMANOVSKA, Karlis RUBINS, Karlis RUBINS captain, Martins LORENCS coach
ROMANIA Mihaela BALINT, Marius IONITA, Bogdan MARINA, Geta MIHAI, Radu MIHAI, Marina STEGAROIU, Bogdan MARINA captain
RUSSIA Alexander DUBININ, Alexej GERASIMOV, Andrey GROMOV, Anna GULEVICH, Tatiana PONOMAREVA, Olga VOROBEYCHIKOVA
USA 1 Cheri BJERKAN, Allan GRAVES, Christal HENNER, Uday IVATURY, Jill MEYERS, Howard WEINSTEIN, Joe STOKES captain
USA 2 Huub BERTENS, Debbie ROSENBERG, Andrew ROSENTHAL, Chris WILLENKEN, Jenny WOLPERT, Migry ZUR-CAMPANILE, Jeff AKER captain
New Facebook News
World Bridge Federation
New Videos
New Photo Album
Don't forget to follow us @