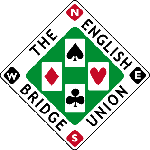 24 MAY 2018
Source: EBU
Congratulations to Megan Jones on becoming the first ever recipient of the Junior Award Scheme's highest award, the Diamond Award. The certificate was presented by EBED's David Emerson at Stratford-upon-Avon Bridge Club, where Megan regularly plays and directs.
The Junior Award Scheme is run by English Bridge Education & Development, and recognises achievement and improvement in all levels of bridge, from minibridge up to the Diamond Award.
For more information on Megan's achievement, and on the scheme, see the EBED website.