A few days ago I got in touch with Mr. Ousama Danial since his pupils achieved the victory in the Israeli U13 Bridge Championship.
The Israeli Bridge Federation build its youth project for many years ("The next generation" In 2010 Israel developed a project to bring Bridge to elementary schools named "Next Generations" leaded by Oryah Meir).
Israel is doing very interesting things, they developed different folders with more than 50 bridge lessons that include example hands, presentations, synthesis…etc. Every year there are training courses for teachers across the country with the financial support of the Israeli Bridge Association.
In recent years the Israel Bridge Association organizes in the Israeli Festival, a tournament for children, more than 700 boys participated, competing in: mini bridge no trump, Mini Bridge and Bridge.
During the last year, Mr. Ousama Danial appointed as the head of a special project – teaching kids in Nazaret.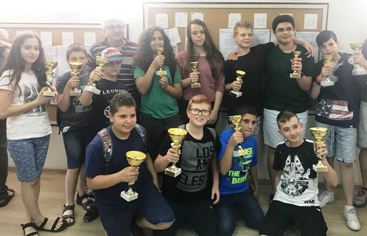 Ousama told me that:
"The story is too long but I give you a summary of the most.
Nine years ago I read a book basic acol by Ron Klinger then start to play at BBO, in about two years I start finding that the book was too poor since I started to learn the 5 cards majors from friends at BBO.
At that time I discovered that the benefits of this game and decided to teach it to kids at schools in Nazareth.
I won a lot of tourney in Israel but all was for beginners, after that I couldn't keep the kids since we don't have a club for bridge in my city, as I was the only Arab bridge player.
My hope that I can be able one day to open a club for bridge in Nazareth
Thank you for your care to me"
Ousama Danial