Source: Juan les Spins 2019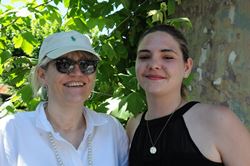 A particular emotion reigned at the FFB headquarters, a few weeks ago, the display of the results of the Championship Mixed Excellence of France.
And for good reason, Anne Cochet won the national title * with her children, the twins, Sarah and Baptiste Combescure. A nice victory for a mother who played several seasons with her offspring, at the beginning.
Mother and daughter are present at Juan Les Spins 2019, Sarah is associated with world champion Mikael Rimstedt, Anne has partner Annick Walter.
* Mixed Teams French Champions 2019: Anne Cochet, Sarah Combescure, Jessie Tessières, Fabrice Charignon, Baptiste Combescure, Yoram Galinsky.
Don't forget to follow us @