Source: Juan les Spins 2019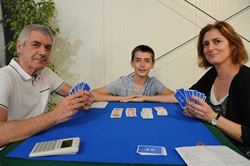 Lucas Sartori, 12, has joined the France kid group this season and will represent France in Croatia next August.
He discovered the bridge thanks to his mother, Véronique, a math teacher at Marcelle Pardé school in Dijon, who was convinced of the positive effects of bridge on learning mathematics and integrated it into her classes.
She also animates on-campus time bridge workshops for twenty students.
Just like her companion, Dominique Canneva, retired from the National Education, who has invested in the teaching of bridge to young people.
The family trio is present in Juan Les Spins 2019. Lucas as the young delegation of the FFB, Véronique and Dominique to play because both are confirmed bridgeurs, they learned when they were students.
Don't forget to follow us @