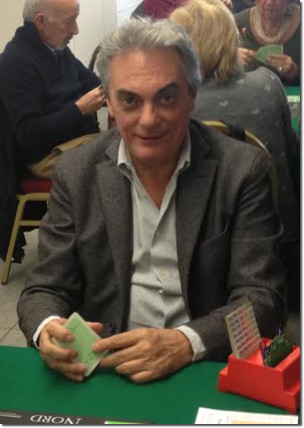 For "The Sting", in this case, we mean a nice little ray, also benevolent, but educational towards a person who, because of his bridgistic behaviour, deserves it.
On this deal we will build "The Sting":
A 7
10 6 5
A Q 3
A K 8 7 2
K 10 9 8 5 3 2
A 9 2
7 4 2
—
Q J 4
Q 4 3
J 10 6 4
Q 9 4
6
K J 8 7
K 8 2
J 10 6 5 3
In this deal south is playing 5

Opening lead:

2.
To make this happen, it is necessary to find the right elements and put them in the right order: everything has to move perfectly like gearing a specific mechanical watch.
Step One
First of all, it is necessary to identify "The Mask", the person who will pay an expensive dinner at the end of the wager, who will be proposing them at the end of the preparatory work.
You have to find an intermediate bridge player, but not of an excellent level, above all, it must be very full of himself, and there the choice is wide.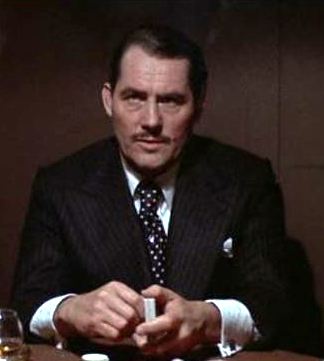 The Mask
When you identified him, the plan is ready to unleash.
As soon as a tournament in the club is finished, you must approach him together with your partner. You must both have a glass full of something that looks alcohol, but you've watered down. With your partner, you start discussing the deal. You must not involve him, he's the one who, out of curiosity, will want to know about the deal and give his opinion.
This is a delicate operation, you must be there sufficiently close to make him feel almost everything you're saying, continuing to talk to each other all the time, sipping your beverage all the time.
When he asks you: "Show me the cards, please" you'll know you hooked him.
You'll show him the full diagram holding the sheet in your hand. You've written the deal in a messy way and in the same time, you partner will comment: "I was wrong to compete with these cards. I played 5 spades in ovest, but 5 clubs in nord-sud go down".
At this point, leave the company on the pretest of a short visit to the bathroom.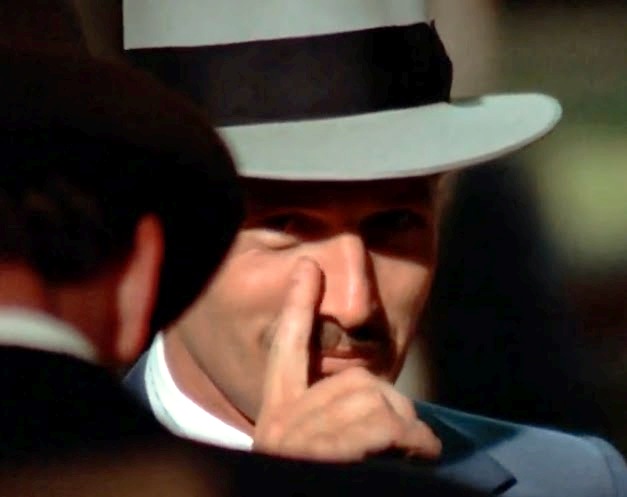 Step Two
In your absence, your partner will comment the deal: "I make 5 clubs, I ruff spades, three rounds of diamonds, then A and K of clubs and then still clubs. East will have to play hearts or concede a ruff and sluff. I ruff in my hand and discard a heart in dummy. Then a heart to the J and the contract is maintained.
The "Mask" will believe he's understood and you're going back on the scene.
You weren't minded at explanation of your partner and, at this point, you'll ask to Mask: "We'll bet a drink, play 5 Clubs and let's see if you make them".
"The Mask" has just listened the solution and will explain: "I ruff spades, then A and K of clubs, three rounds of diamonds and then still clubs. East will have to play hearts or concede a ruff and sluff. ruff in my hand and discard a heart in dummy".
You'll say: "…Very good… ruff in hand with the last atout and now how do you go to dummy to move hearts to J ? "
He will have a shining set of lucidity and he will replay: "I ruff in dummy and move a heart to J".
Right now, you have to remain impassible, you must look surprised and defeated. You have to pay the drink that seems you have lost.
"The Mask" will be as happy as ever, he'll feel better than you and lower his defenses.
Step Three
While you're drinking a gin-tonic, as he now knows everything about this deal, you'll make him a new proposal: "Now I play the deal like dealer and you'll be on defense. I'll bet a hamburger that a I will make the contract.
He will accept the bet because he's a discrete player and he knows the winning defensive way.
You will explain your line: "I usually play in the same way and at the end I ruff in nord and I play hearts to J".
He'll start to laugh and speak out loud so that everyone hear him: "In west I don't take your J and now you have to pay two hearts because I have A 9".
Perfect, "The Mask" is hooked.
The Sting
At this point pretend to have been shot, say a few incomprehensible words, you must look angry and a little tipsy.
Now you'll propose him that he bet a dinner in a three-stars Michelin restaurant.
On this deal, he already won a drink and a hamburger, you seem completely drunk and you still keep gambling for 5 clubs.
He will accept.
It's time for "The Sting".
Very slowly and picking up on words so that all the players in the club hear well, you will explain the winning line to realize 5 clubs.
Ace of spades, 7 of spades ruffed in sud, then Ace and King of clubs, three rounds of diamonds ending in nord. Now 5 of hearts to the J. West can't win or all it is over.
Only at this moment I play clubs to the queen.
East is defenceless.
Now he is in his hand and must concede a ruff and stuff, in which case I discard a heart from dummy losing only two tricks, Ace of hearts and Queen of clubs, or he must play from the Queen of hearts towards the 10 in dummy ".
Enjoy your meal.
Source wikipedia, The Sting: is a 1973 American caper film set in September 1936, involving a complicated plot by two professional grifters (Paul Newman and Robert Redford) to con a mob boss (Robert Shaw).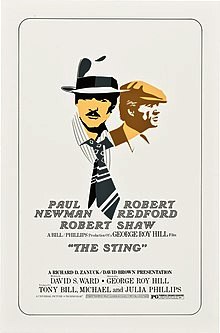 The film was directed by George Roy Hill, who had directed Newman and Redford in the western Butch Cassidy and the Sundance Kid. Created by screenwriter David S. Ward, the story was inspired by real-life cons perpetrated by brothers Fred and Charley Gondorff and documented by David Maurer in his 1940 book The Big Con: The Story of the Confidence Man.
 Don't forget to follow us @