Dear Bridge Friend:
The Swedish Online Festival that will take place July 30th to August 7th  
We offer two Gold pairs:
Tournament 1: Will be played 30th of July @ 15.30 – 42 boards. IAF – pairs.
Tournament 2: Will be played 7th of August @ 11.00 – 42 boards. Swiss pairs.
Entry fee: 150 SEK/ per player all ages. Registration latest 29th of July for tournament 1 and 6th of August for tournament 2.
Prize money: 40% of the entry fees.
Chairman's Cup teams:
Swiss – 31st of July – 1st of August
KO for those remaining until we have a winner 2nd of August to 5th of August
Free entry fee for junior teams (U26). Junior teams with one or two seniors as player five and six (maximum number of players in a team are six) pay 500 SEK per senior.
Entry fee for senior teams: 2400 SEK. Registration for all latest 30th of July for all.
Prize money: 1st 50 000 SEK, 2nd 25 000 SEK, 3rd 15 000 SEK, 4th 10 000 SEK and 5-6th 7 500 SEK
Swedish Open Junior Pairs
July 30th 11.00. Pairs
Free entry fee for all players. Maximum age U26. Registration latest 29th of July.
Prize money: 1st 3 000 SEK, 2nd 2 000 SEK, 3rd 1 000 SEK.
All mentioned times are CET.
All tournaments will be played on Real Bridge.
For more information, how to enter, payment instructions, system regulations etc. Check www.svenskbridge.se/eng, this page will be completely updated on Friday this week.
Best regards,
Micke Melander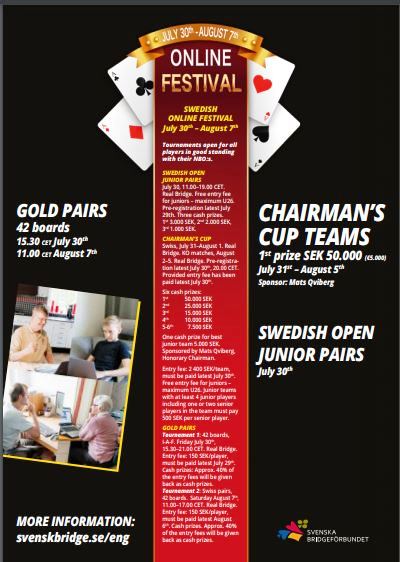 Don't forget to follow us @