March 29 2019
The Final: Israel & Denmark 
Denmark
Christian Lahrmann, Søren Bune, Andreas Plejdrup, Emil Buus Thomsen & NPC Claus Lund
Israel
Aviv Zietak, Nir Khutorsky, Amir Ezion, Lior Urman, Gal Matatyahou, Yontan Sliwowicz & NPC Ram Blass
Third and last Set:
Just in the first board of the last set Denmark started to pressure Israel.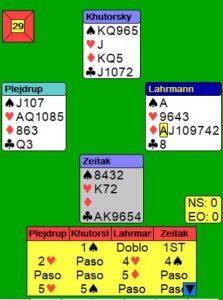 Board 29
Denmark obliged Israel to choose between a double or the 5th level. Israel chose to play 5

and couldn't make it. At the other table, Israel let Denmark play spade at the fourth level and lost 12 IMPs.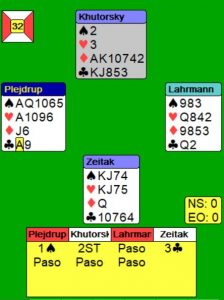 Board 32 generated another 8 IMPs for Denmark when Israel went two down in a 3NT game while Denmark made a club partscore.
Now the match was Israel 67 – Denmark 62
Board 34 turn up side down the match, Denmark was the new leader.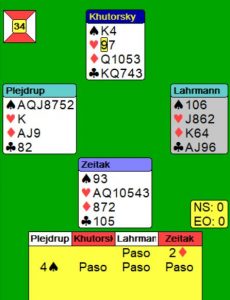 Aviv Zietak (ISR) opened his hand showing a weak major and Andreas Plejdrup (DEN) jumped to game in spades. Easy make and new leader, Israel only played 2

 in this board. Now the match was  Denmark 69- Israel 67.
Israel made one overtrick for a much needed IMP in the next board.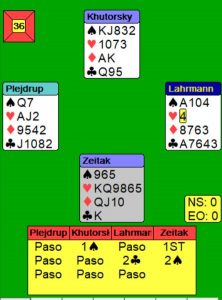 And manage to recuperate the leadership next board when they chose to play a spade partscore while Denmark played a heart game two down. Board 36 gave 8 IMPs to Israel…and an exciting ending was coming, with only 6 boards to play.
Now the standings were:
Israel 76 – Denmark 69
Board 38 helped Denmark to recuperate 4 IMPS, they make 4

in one room and were three down playing 2

in the other. Now they were only 3 IMPs away.
In the last board Denmark played a heart game with no future against a partscore done in the other table, but a bad return from an Israel player in one of the tricks, let Denmark won the contract and the championship.
CONGRATULATIONS DENMARK WHJI 2019 CHAMPION!!!!
Don't forget to follow us @