Photo by: Yunrui Zhang
08/16/2018, Wujiang, China
Follow us on Instagram, @wbfyouth
Source: Daily Bulletin 10
28 BOARDS TO DECIDE THE GOLDS
We are nearly down to the wire, 56 boards played and 28 to go to decide the winners of three world titles: Junior, Youngster and Girls. With those two sets to go, the Singapore juniors lead Sweden by 142 imps 136.
In the Youngsters, Sweden edges Israel by 97 imps to 72. In the Girls, China has a 158-115 advantage over Poland. The bronze medals were won yesterday. In the Girls, France defeated the Netherlands by a nail biting 129 imps to 120. France took the Youngsters more easily, beating Italy by 126 imps to 66. And in the Juniors, the Netherlands got past Poland by 116 imps to 99.
The Board-a-Match A final was won by Cazok: Brad Johnston, Christian Jolly, Adam Kaplan, Benjamin Kristensen, Kevin Rosenberg and Asaf Yekutieli. They had 70.82 points, 2.94 ahead of China Youngsters: Zhiyu Cheng, Baozhuo Jiang, Yufan Liao, Randy Pan, Qian Sun and Xihao Wang. Another 3.94 points behind in third were Cinese Taipei Junios: Ping-Lin Chen, Hsiao-Lan Guo, Hsiao-Tien Huang, Yu-Lun Li, Kai-En Lin and Yungkuang Wang.
The B-a-M B final was captured by Norway: Carl-Otto Curran, Arne Osnes Devik, Simen Soerlie Helgeby and Markus Lund. They had 59 points, 6 ahead of Egypt: Ahmed Ashraf, Karim Ashraf, Abdelrahman Khamis, Ahmed Naser, Omar Shaheen and Marwan Youssef. Third, another 6 points in arrears, were India CHK: Yucheng Ai, Tianxiang Fu, Yifu Jin, Jiezhen Miao, Ryan Song and Leyan Tang.
RESULTS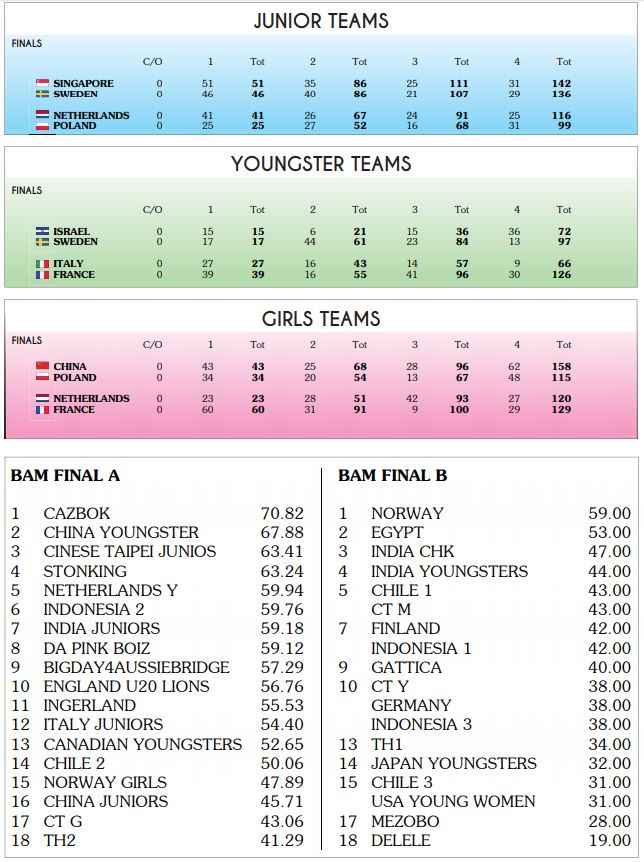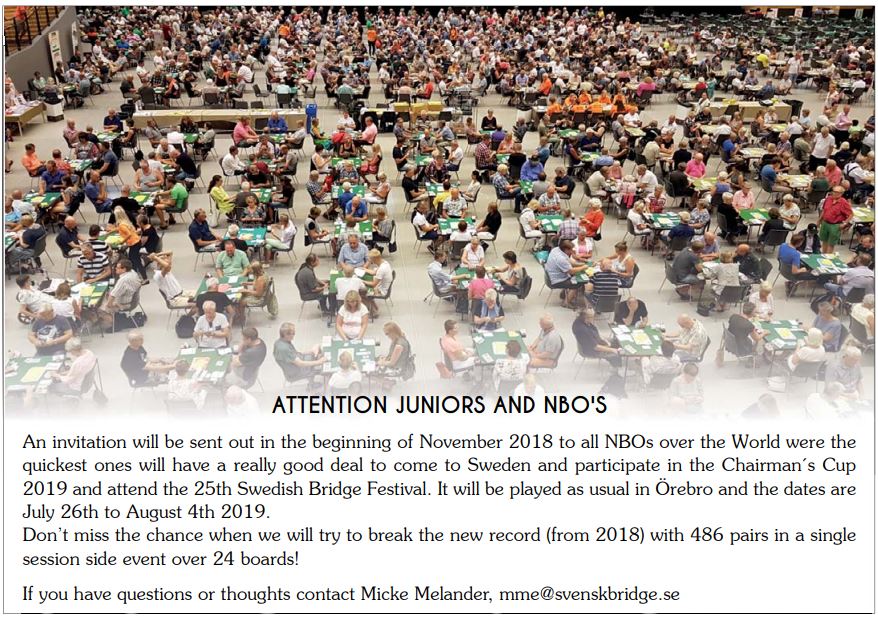 Visit World Bridge Federation Youth Facebook Click here
Follow us on Instagram, @wbfyouth
15th WORLD BRIDGE SERIES
Orlando, Florida – 21 September – 6 October, 2018