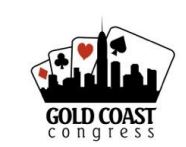 2018 57th Gold Coast Congress
Friday 16 February – Saturday 24 February, 2018
YOUTH BRIDGE PLAYERS
Subsidised (or FREE!!) entry fees
and accommodation
Come to one of the best congresses in the world! Gold Coast Congress is from Feb 16th to 24th. Entry is free/half price for youth players, and the GCC are providing very cheap accommodation for youth players!
The Gold Coast Congress is the biggest bridge competition in Australia – a smorgasbord of
events over 8 days (Friday 16 February 2018 to Saturday 24 February 2018) to suit players of all ages and standards.
We want you!!!
Entry Fees
All players born in 1998 or later get free entry.
All players born between 1993 and 1997 get a 50% discount.
Accommodation
The Gold Coast Congress offers heavily subsidised accommodation in high rise holiday units
to youth(ish) players. The cost is only
• $17 a night for those born in 1993 or later.
• $27 a night for older youths (up to 32 years or so).
The La Grande Broadbeach Holiday Apartments have air-conditioning in the living area and a fully equipped kitchen. The complex is a short 800 metre stroll to the venue, and even closer to the beach. It has a pool, BBQ, gym, spa and sauna, and the youth players who stayed there last year had an awesome time!
For details or to book accommodation, contact Jessica Brake on 0414 134 888 or
jessicabrake@hotmail.com. Accommodation places are limited. Preference is given to those
born in 1993 or later, or "older" youth players not in full time employment.
Other financial help
Your state based bridge association or local bridge club may also offer a subsidy – it doesn't hurt to ask!