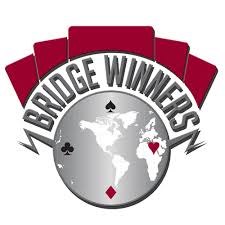 Source: Bridgewinners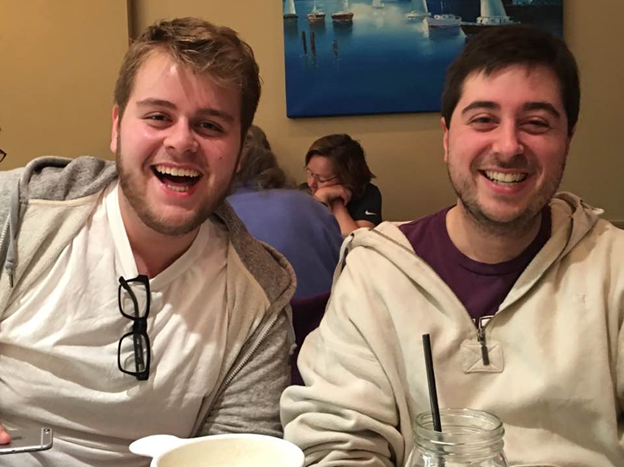 Zachary (Zach) (left) and Adam Grossack (right) represent the next generation of bridge. They are an exciting pair to watch and generate a lot of action at the bridge table (especially action-Zach). Their natural-style bidding system makes their bidding easy to follow for spectators. Together, they have achieved much success at the bridge table. Playing together, they have 2 NABC+ wins (Open GNT 2016, Fast Pairs 2014), 3 gold medals in international junior competition (WYOBC Atlanta 2013, WYOBC Lyon 2017, BAM Lyon 2017) and 1 silver (WYTC China 2012). Zach is hot off an additional NABC+ win in the Silodor Pairs last March in Kansas City with Mikael Rimstedt (Adam played in the event with Mikael's brother, Ola, and placed third). Adam has an additional gold medal from the 2010 WJBC Individual in Philadelphia and a silver medal from the U21 WYOBC pairs in Croatia 2011.
Zach and Adam are passionate about the game of bridge and promote it whenever possible. Zach, a junior, founded and leads the Tufts University bridge club which has 24 members. He has also volunteered by teaching bridge in several retirement and assisted-living homes. Adam was 2010 Teen King of Bridge and founded the Brandeis University Bridge Club (he graduated from Brandeis in 2014), where he led the team to two collegiate championship runs. Zach and Adam also serve on the board of New England Youth Bridge, a non-profit organization that promotes junior bridge. Through NEYB, Adam taught bridge to third, fourth, and fifth graders last year and is looking for more opportunities to promote bridge to young people. They are both members of the USBF Junior training program. Zach is in a group with the top American Junior prospects for the 2018 World Junior Championships (Oren Kriegel, Christian Jolly, Adam Kaplan, Ben Kristensen, Kevin Rosenberg). The team is mentored by Michael Rosenberg, the leader of the program. Adam, a graduate of the program, now serves as a mentor to other groups.
Countless people have donated so much time, effort, and resources to helping Zach and Adam along their way in their bridge careers. First and foremost, none of this would have been possible without their mother, Jori. She signed Adam up for bridge lessons at the young age of 8. You've heard of a soccer mom… Jori was (and is still) the ultimate bridge mom. Adam's first teacher and mentor was Don Caplin. Zach (five years younger than Adam) started around age 8 as well. Jori and Adam were his primary teachers. Other mentors for the pair include Alan Applebaum, Lew Gamerman, Michael Rosenberg, and recently, Jeff Meckstroth. The pair expresses deep gratitude for everyone who has helped them along the way, too many to name, and hopes to continue to give back to the bridge community whenever possible.
Zach and Adam both teach bridge professionally, Zach semi-professionally while he still is in school and Adam full-time. Away from the bridge table, the pair has close friends and family in the Boston area. They are very close with older brother, Sam Grossack, who doesn't play bridge and is an attorney. The pair's father, Rocky, is also an attorney. Their family was very supportive of both bridge and creating a well-balanced life. Zach and Adam grew up playing youth sports and were blessed to live in Boston through the 2000s when Tom Brady and David Ortiz dominated the world.
144 Comments: asking questions to both Zach and Adam, or to either brother. Thank you all for your interest!
Read all the questions and the Brothers answers Clicking here