Source: 

BY RYAN LEE   FEBRUARY 8, 2018
For the past two years, a small group of Tufts students has been meeting each week to discuss and play the card game bridge. Though it is not officially recognized by the Tufts Community Union Judiciary, the Tufts Bridge Club currently has ten active members, led by President and national champion Zach Grossack, a junior.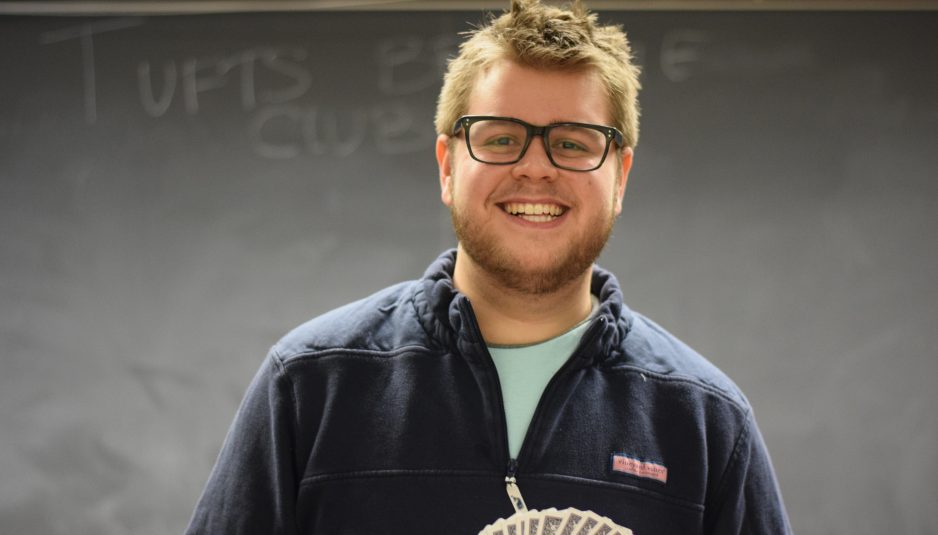 Grossack believes that bridge is an intellectually and socially unique activity and is eager to share his experience with others. He co-founded the Bridge Club in his first year at Tufts with seniors Ilana Goldberg and Risa Goldberg. Grossack hopes to welcome more youth into the activity.
In a nation wide American Contract Bridge League (ACBL) survey of bridge players, most youth associated bridge with the term "old-fashioned." Grossack worried that bridge may not have a future, even with the existence of a small group of passionate youth players.
"I'm hooked on it, [but] bridge is sort of dying. The average age of a competitive bridge player is 71 years old," he said.
Grossack explained that one main reason for the lack of youth involvement in bridge is the sheer complexity of its design. There are extensive rules and mathematics involved, which take time to master.
"The best thing that you could do is market bridge as a math class. The problem is, you need to spend the first six classes teaching people how to play the game," he said.
Expressing a similar sentiment, co-founder Risa Goldberg shared that she was initially disappointed to find out that there was no formal club for bridge players on campus, so she decided to create one together with Grossack.
"My sister and I learnt it from our grandparents. It's not really a traditional game played by younger people, but we were super into it," Goldberg, a senior, said. "We found out that [Grossack] is a national champion and felt that we can make it pretty feasible and so then we started running meetings."
Senior Ben Goebel said that he chose to join the Bridge Club in his last year at Tufts because he has not participated in many clubs so far.
"I chose to join Tufts Bridge Club because it sounded like a chill and fun club to be in, and it is. Playing bridge is a fun challenge," Goebel told the Daily in an email. "The best part, though, is the people. We are always having a great time; it's a great community."
Grossack explained that the club's meetings are primarily concerned with introducing new players to the game.
According to Risa Goldberg, the club's new members, many of whom joined last fall, have since improved in their proficiency as bridge players.
"[The] majority of our new members didn't even know how to play and were just interested in the game. We started from there with very basic lessons," Goldberg said. "Now, as we get further into the year, we are all near the same level."
To ease the formidable structural barriers to entry in bridge, Grossack starts beginners with online simulations, like the one offered by the ACBL. These simulations run programs to explain the parts of a bridge game as they happen. Beginners are then able to experience the more stimulating game aspects without having to worry about its many conventions, according to Grossack.
Grossack worries, though, that too much advancement toward online competition will cause the in-person aspects of bridge to deteriorate.
"There's so much more to bridge, there's so much socially to bridge, I've met people from all over the world," he said. "You go online, that's all gone. But there can be some give and take — you can play some of the less important stuff online, but nationals and big big tournaments in person."
Grossack has experience with tournaments, having traveled the country and world for competitions such as the North American Bridge Championships, of which he's won three.
"For me, once you start winning these things regularly and becoming good enough, you learn enough about the game to impart knowledge on other people," Grossack said. "And that's where the value lies in bridge, is being able to impart information."
Grossack, personally, has a very bridge-filled future. This summer, he will represent the United States as a member of the country's top under-26-years-old team at the World Junior Bridge Championships in China. In preparation, he is practicing for two hours every week with United States Bridge Foundation coaches.
The current members of the Tufts Bridge Club are now advanced enough to compete in their first tournament this month, according to Grossack and Goldberg.
The tournament, which will be held in Watertown, Mass. from Feb. 23–25, will cap certain competitive pools by experience, so club members will play against other beginners.
Grossack added that he is also working to make the Bridge Club a recognized student organization, applying to teach bridge as an ExCollege class and advertising his expert-level teaching to the wider Tufts community.