Anshul Bhatt is a 12–year-old who loves playing bridge. He recently gave a TEDx talk titled "Bridge: A Game for Life". In this spectacular story, Anshul beautifully depicts that age is just a number, all one needs is passion and grit!
Anshul was the youngest ever winner, at the age of eight, of the prestigious Joan Gerard Youth Awards at the World Youth Open Bridge Championships, where he represented India in the U-16 category. The award is given every two years to one player globally for aptitude, fair play, and international spirit.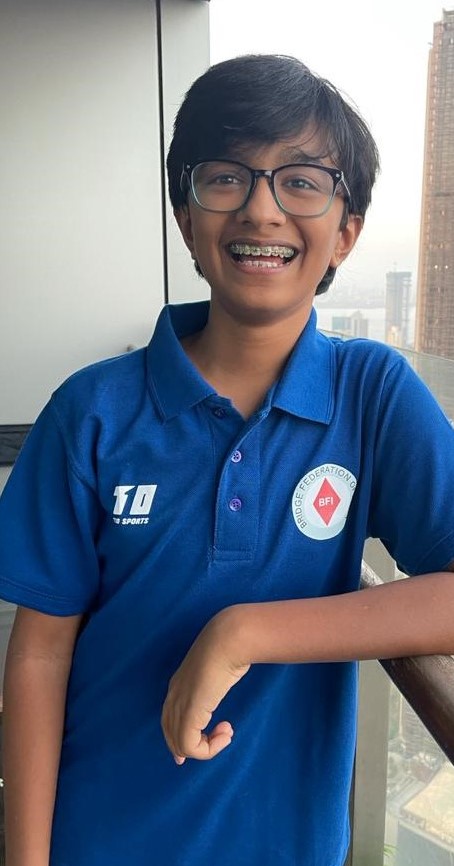 A student of Grade VIII at the Dhirubhai Ambani International School (DAIS) in Mumbai, India, Anshul has diverse interests and an insatiable curiosity that extends from the sciences to the humanities. He enjoys reading books by Philip Pullman, JK Rowling, and JRR Tolkien and is a die-hard Star Wars and Avengers fan. He loves to cook, to play board games, and to write short stories. Every evening, he looks forward to playing squash, cricket, football or going cycling with his friends.  
Anshul has been regularly participating in and performing well at various open category local, national, and international tournaments. He won the Junior National Championships (U-26) in Mysore, India, in August 2018. After observing Anshul at the 2017 HCL Bridge Championships, World Bridge Champion Dennis Bilde told Business Standard, "Anshul has the mind of a 25-year-old who has been playing bridge all his life."
Anshul Bhatt can be reached on: anshulb1024@gmail.com
Press Coverage:
Business Standard, May 2018  
Meet Anshul Bhatt, a bridge champ at eight: Having taken up the game just a couple of years ago, eight-year-old Anshul Bhatt is making bridge history
https://www.business-standard.com/article/beyond-business/meet-anshul-bhatt-a-bridge-champ-at-eight-117092901176_1.html
Bridge Federation of India website, September 2017 
8-year old Anshul Bhatt wins prestigious Joan Gerard Youth Award
http://bfi.net.in/8-year-old-anshul-bhatt-wins-prestigious-joan-gerard-youth-award/
Mid-day, September 2017 
Mumbai: This 8-yr-old boy plays the right cards
https://www.mid-day.com/articles/mumbai-this-8-yr-old-boy-plays-the-right-cards/18550158
Sunday Times of India, September 2017 
Bridge award for Anshul
https://www.pressreader.com/india/the-times-of-india-mumbai-edition/20170903/282930975504694
DNA Delhi, September 2017 
Bridge award for Anshul
https://www.pressreader.com/india/dna-delhi/20170901/282553018378809
World Bridge Federation Website, September 2017 
Page of Joan Gerard announcement
http://www.worldbridge.org/2017/08/25/5th-world-youth-open-championships-2/
Indian Express, August 2019 
Bridging the age gap: Three Indian juniors make it to Junior Bridge World Championship
https://indianexpress.com/article/sports/sport-others/bridge-world-championship-matunga-gymkhana-5873862/
Videos 
TEDx, April 2021
Bridge: A Game for Life
https://youtu.be/WFYOj5hbrTI
WBF: Interviews with Anshul Bhatt, August 2017]
The video includes two interviews with 8-year-old Anshul Bhatt from India, the youngest participant at the World Youth Bridge Championships at Lyon: in the first, he talks about his bridge journey that led to Lyon, and in the second, he shares his experiences at the tournament
https://drive.google.com/file/d/153E-oT0cRv2aVMz4-6ZifAsdxpvEtCw5/view?usp=sharing
WBF: Anshul Bhatt wins Joan Gerard award for kids category, August 2017 
https://drive.google.com/file/d/1jwsbbC7DomcIJMJgFDLQjuCjzQUavZnk/view?usp=sharing
WBF: Anshul Bhatt conducting the oath taking at the opening ceremony, August 2017 
https://drive.google.com/file/d/1dYSUwiFiKBu62pBibWJadRtsPMIW4Yt-/view?usp=sharing
France TV: Interview with Anshul Bhatt
http://france3-regions.francetvinfo.fr/auvergne-rhone-alpes/rhone/lyon/aux-championnats-du-monde-bridge-lyon-debutants-s-initient-1312515.html 
Don't forget to follow us @