Source: EBU
The Portland Bowl Finals took place this weekend, 23rd – 24th April 2022 at the world famous Portland Club in London.
In the semifinal, Oxford A beat Oxford B by 95 IMPs (190-95). Warwick A conceded to Cambridge B prior to the weekend.
In the final, Oxford A beat Cambridge B by 25 IMPS (126-101) and therefore retained the Portland Bowl. The Oxford line-up (pictured, from left to right) of Lawrence Wang, Yining Yang, Ewa Wieczorek & Sam Anoyrkatis was the same winning team as last year, with the added inclusion of NPC: Charlie Bucknell (not pictured). The Cambridge B team were Kripa Panchagnula, Daniel Winter, Charles Gong, Nicholas Lee, Jack Lawrence, Oscar Selby & NPC: Lucia Arce. The photo shows the winning Oxford A team with Christopher Kemp, Chairman of the Portland Club, whose continued generous sponsorship of this event is greatly appreciated. This is Oxford's 11th victory in the competition.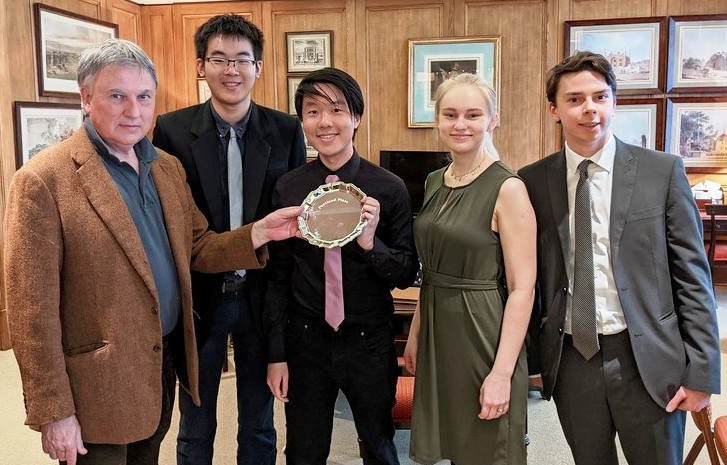 In the Portland Plate, which is for teams knocked out earlier in the Portland Bowl, Imperial A beat Imperial B in the semifinal and as neither of the other two semifinalists was able to play, Imperial A were declared the winners. The Imperial A team (picture) were Marcus Neo, Wang Pei, Lee Ann Madissoon, Ben Lewis & Ryan Tan  (not pictured).
 Don't forget to follow us @