Source: Marcin Kuflowski
The Czech Bridge Federation presented the 1st Central European Youth Championship which took place from November 29 till December 1 in Prague Bridge Club (the whole adress: Italská 209/17, 120 00 Praha – Vinohrady).
Super successful 1st Central European Championship!
Team:
2. Poland u15 CKiS Skawina Kacper Kuflowski Franek Kurlit Łukasz Kasperczyk Michał Stasik – the highest classified team u16 and u21 among u26!
1. Poland U15 KBS Miłkowice Maciej Betliński Sebastian Zimorski Aleks Bukat Paweł Świątkowski.
2. Poland u12 CKiS Skawina: Kacper Kisielewski, Ignacy Kotewicz, Jan Trojak, Antoni Wójtowicz! Probably the biggest surprise of the whole competition! 9, 9, 10, 12 years !!!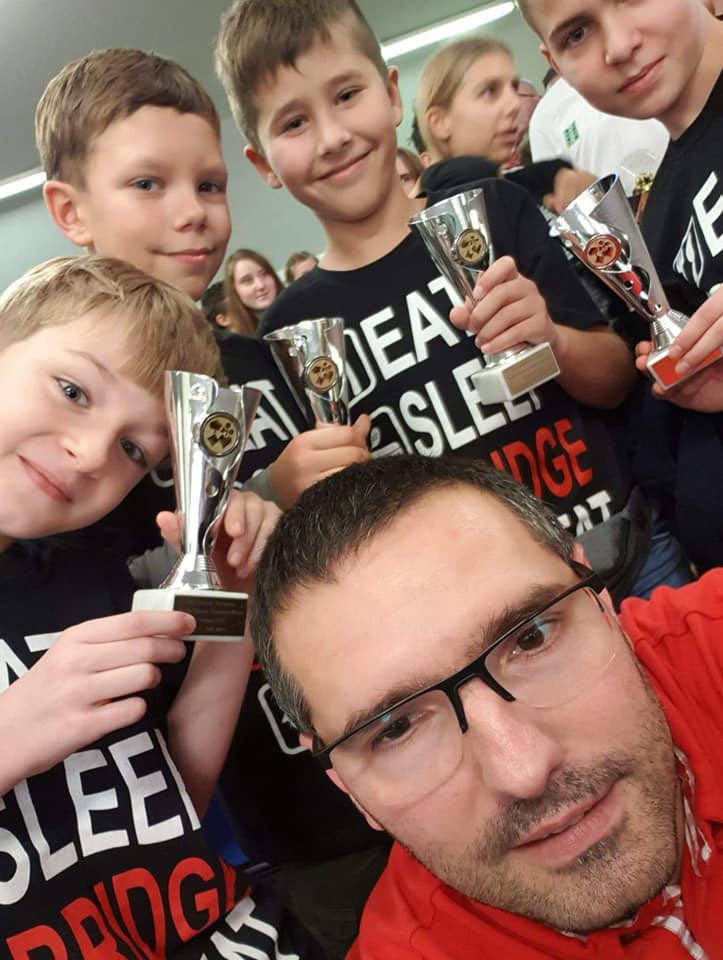 Polish Sports Bridge Association
Skawina commune
Culture and Sport Center in Skawina
Greetings from Prague !!!
1. The Central European Championships are slowly coming to an end. In the pairs tournament that ended yesterday, Poles took 6 places in TOP-8 in the youngsters category. Aleks Bukat and Sebastian Zimorski won, ahead of Łukasz Kasperczyk and Michał Stasik and Czechs. Our youngest players recorded great performances: they finished Jan Trojak and Ignacy Wójtowicz on the 7th, and Kacper Kisielewski and Antek Wójtowicz on the 8th.
Today the qualifying round of the team tournament in the Under 26 category has come to an end. The team from Centrum Kultury i Sportu in Skawina was short of promotion from the promotion to the final four – 2 VPs were missing! This art was successful for our team U-26.
Youngsters from KBS Miłkowice had a slightly greater loss. Both teams will appear tomorrow in the final competition in the U-16 category and confidently decide between themselves the fight for victory. The youngest from #teamCKiS are doing sensational, but they also advanced (from 3rd place) to the U-16 finals and tomorrow they will face the chance to win medals!
Keep fingers crossed!
Don't forget to follow us @