Source: http://csbnews.org/
The South American Youth trials for the next Salsomaggiore World Championship (ITA) 2021 ended yesterday.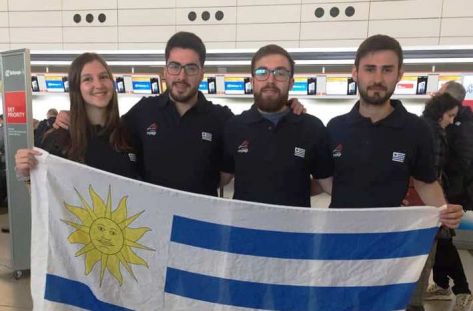 Category U 26:
Chile won the qualifying Round Robin, and chose to play against Uruguay, the other semifinal was Argentina and Brazil. Both Chile and Argentina started with 14 IMPs, the maximum allowed by regulation, the players played four sets of 14 boards each.
In this category for the fifth place Peru defeated Ecuador: 141 to 55 IMPs.
The Final: Was played in two sets, 14 boards each and Argentina started with 7 IMPs, these were the partials:
Uruguay is the 2020 Champion !.
It is worth noting the great game displayed by the River Plate squad. With great integrity achieved this victory unthinkable at first, Gloria and Loor (Glory & Honors) for Uruguay.
Argentina with an auspicious performance, obtained the silver medal, and the classification for Salsomaggiore 2021.
For the third place, Chile defeated Brazil by 79 to 54 IMPs, obtaining the bronze medal.
In the U26 Ladies category, the Gold medal went to Argentina and Ecuador was awarded with the silver medal, in a match where Argentina maintained control from the beginning, the final result was 408 to 115. Both teams qualified for Salsomaggiore 2021 .
In the U21 category, Argentina won the gold medal and Ecuador the silver medal, with a cumulative total of 355 to 127 IMPs, both teams also obtain the right to participate in the Salsomaggiore World Cup.
It only remains to highlight the brilliant task carried out by Dr. Gustavo Chediak and his team made up of Fernando Perez (CHI) and Cristian Cuchian (ARG). Thank you all very much!
Don't forget to follow us @