Falkenberg 2019-01-08
Dear bridge friend:
For the last 15+ years we have invited international teams to come and participate in the Chairman´s Cup which is played during the Swedish Bridge Festival. The dates for Bridgefestival 2019 are July 26th to August 4th, and the Chairman's Cup are played July 27th to August 1st.
Last year we made a successful change and decided to only invite junior teams, everyone is off course welcome 😊, but our invitation involves were we support the teams with entry fees and accommodation.
All in all, we offer the first ten junior teams to enter a free entry fee for the Chairman's Cup, moreover the players might also for free be able to play the morning bronze tournaments if knocked out of the team tournament. Beside this, all invited teams get two double rooms (that might be triple/quadruple if you want) at the following hotel: Scandic Väst Örebro.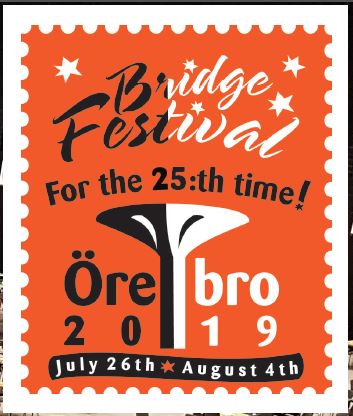 If you want a third and or more rooms they will be at your own expense, we can help you out to get the best possible prices. The rooms that are of the highest standard includes a Swedish Breakfast buffet with more or less is like what you are used to know as smorgasbord. 😊
The Chairman's Cup is one of the toughest K-O team-tournaments that you may play outside the USA Nationals. The Chairman's Cup are played as a Swiss for two days, the top 32 then goes to KO and the other are out.
More information about the festival may be found out here: http://www.svenskbridge.se/eng . The Swedish Bridge Festival is much more than the Chairman's Cup and offers a wide variety of tournaments to play in (one session pair or team tournaments).
See attached leaflet for more information. If you have any question or want to make an entry contact: Micke Melander, mme@svenskbridge.se.
Micke Melander
Swedish Bridge Federation
Don't forget to follow us @