Source: http://www.jeugdbridge.nl/
Dear participant:
Great that you are joining us for the White House Juniors 2019! We are looking forward to it.
We have concluded our list of participants, special thanks to the Croatian team!
We're waiting for the last couple of teams for players names.  Please let us know asap if you haven't done so already, and if we made mistakes with the names please let us know, you can check below.
In this email you will find information about the playing venue, the participants, some of the conditions and a playing schedule.
Please let us know if you will be participating on Sunday during the Pro-Am team tournament (Patton), and if you are willing to let some of your juniors play with some sponsors. They will appreciate it a lot if you do, and so will we :-).  The tournament is serious & fun, so feel free to mix it up.
Also let us know if you are NOT participating. You don't need a whole team, players or pairs are also more than welcome.
Don't hesitate to reach out to us for extra information, questions, remarks or anything. Email is most convenient, for urgent things or during the tournament:
Tim Heeres: 0031642819748. Or before the tournament (during unavailable due to NABC Memphis) Bob Drijver : 0031618455430 .   Feel free to use WhatsApp.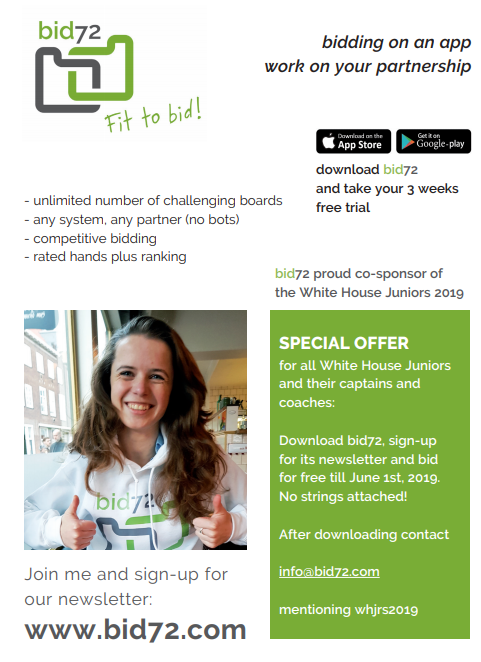 Fun gift for everyone from one of our co-sponsors: 
You can find attached some information about Bid72. They are giving a free trial period 
for ALL participants, coaches and captains
 till the 
1st of June
. All you have to do is send an email to 
info@bid72.com
 with emailadresses of your team members so they will be invited. Or your team can send an email themselves if you forward this. Perhaps even for some extra juniors who are not able to play at the White House Juniors 2019.
It is a fun and helpful app for all users, personally we are using it for a month now 🙂 . Good way to practice and discuss system.
Best regards and see you soon!
Bob Drijver & Tim Heeres
Don't forget to follow us @