08/15/2018, Wujiang, China
Follow us on Instagram, @wbfyouth
Source: Daily Bulletin 8
CHINA 3 WINS THE FIRST GOLD MEDALS

After comfortably winning the round robin, China 3 were the favorites to take the gold medals in the Kids division, and they did not disappoint their supporters.
Playing France in the 48-board final, they were down by 6 imps after the first quarter and 1 at halftime. But China 3 had a good third set to jump ahead by 21 imps.In the last session, they gained another 6 imps to win by 114 imps to 87.
In the battle for the bronze medals, Sweden led by 8 imps at the two-thirds mark, but USA gained 15 imps in the third and last session to win by 7 (95-88)
The winners are Tie Chen, Zanchao Cui, Xihong Dai, Sicheng Lui, Yiping Lu and Zichen Wang, with Guoqiang Chen the nonplaying captain, and Feng Qu the coach. The silver medals go to Romain Bloch, Aurele Gallard, Leo Rombaut and Thibaut Zobel, with Benoit Deveze as the npc.
The USA team comprises Michael Hu, Harrison Anders Luba, Rory Xiao, Michael Xu, Jonathan Yue and Arthur Zhou, with Jim Munday the npc. The Swedish players are Andreas Abragi, Markus Bertheau, Mayalo Bjoerk Heed, Isis Lundqvist, Tiger Lundqvist and Andrea Nilsson, with Kathrine Bertheau the npc and Eva Abragi the coach.
The other three divisions played their quarterfinals yesterday. In the Juniors, there was a big upset. USA1, the top seeds, chose Singapore and seemed to be in a comfortable position, up by 46 imps with one set to go. But Singapore won that by 62 imps to 19 to win by 3 (170-167).
In the semifinals, Singapore will play Poland, 17-imp winners over USA2. In the other match, the Netherlands, who beat Israel by 94 imps, will face Sweden, 38-point victors over China.
In the Youngsters, Israel continued their winning ways, defeating Germany by 158 imps to 86. France beat Bulgaria by 1 imp after an appeal in the last session, Italy beat Poland by 62, and Sweden won against the Netherlands by 51.
In the semis, Israel plays France and Italy takes on Sweden. In the Girls, China defeated USA by 66 imps and will play against France, 25-imp winners over Hungary.
In the other matches, the Netherlands swamped Norway by 86 imps, and Poland beat Turkey by 55.
RESULTS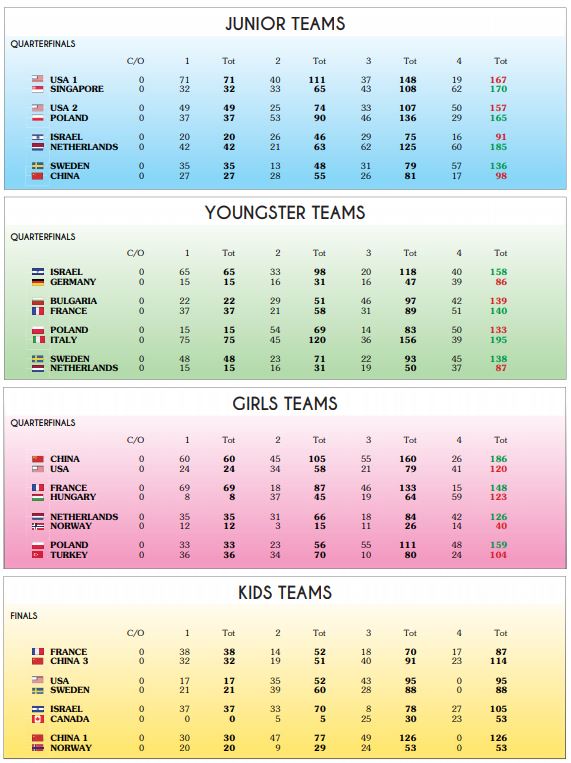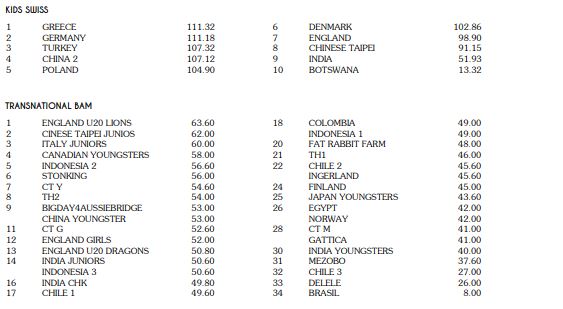 KIDS WINNERS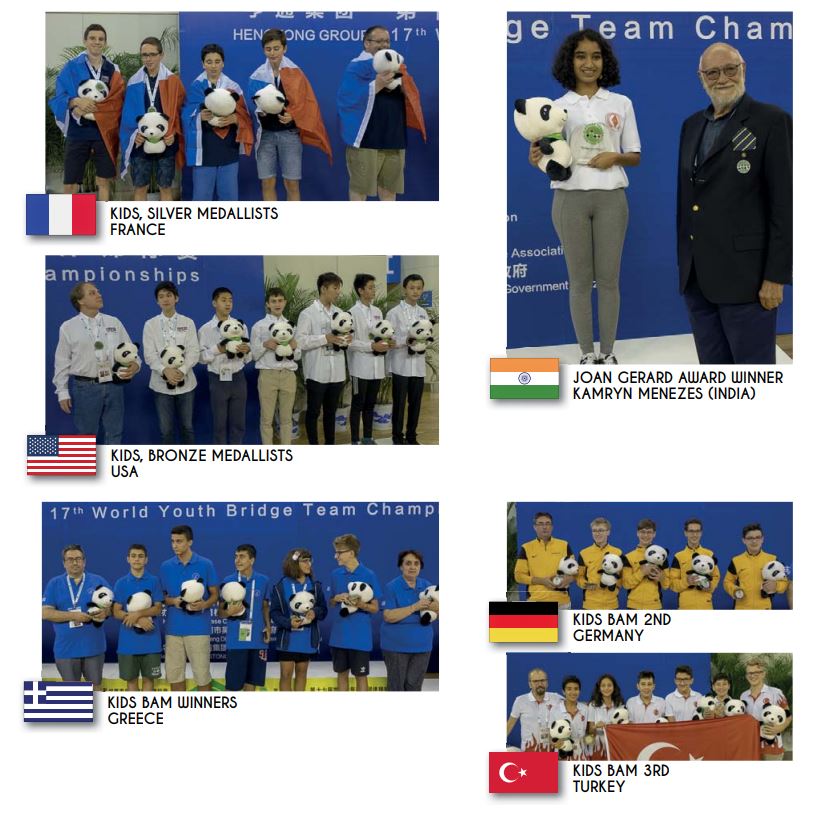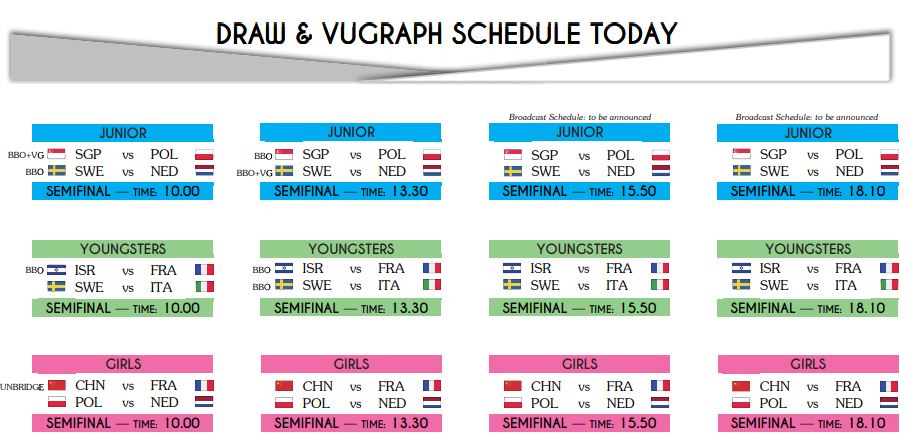 Visit World Bridge Federation Youth Facebook Click here