Source: APBF Championship 2017 Daily Bulletin 9 (June 2017)
Results
Pairs:
Teams
You are never too young to learn bridge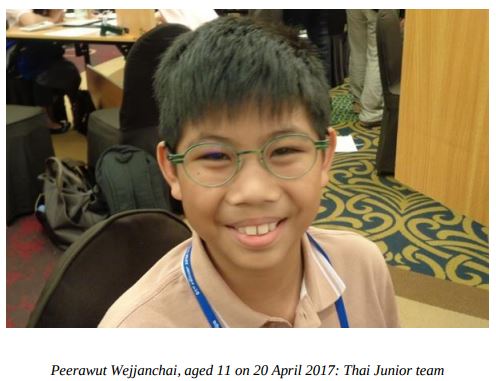 Thailand has teams in every category this year, including a Youngester team, but nonetheless, Perrawut qualified for the Junior team. He only arrived yesterday because his mother, who has accompanied him here, insisted on his not missing school to be here (very sensible!) Peerawut has exactly the right number of siblings for a bridge game, the other being nine, seven and five years old. We are told that the five year old is very happy to be dummy.
Youngest Pair
We featured the youngest player yesterday and today we have – I think – the youngest pair, playing for Korea in the Youngsters. Thanks again to Barbara Travis (Australia) for her roving photography.