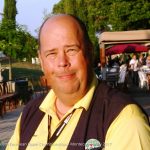 The 29th of March to the 1st of April the Nordic U16 Pair Championship was played and parallell to this a Youth Camp was held in Varberg, South of Gothenburg, in Sweden.
Both arrangemanents ended successfully and the almost 50 young players had great fun practising bridge, bowling, bridge, football, bridge, boule and a lot more of bridge except enjoying and entertaining themselves.
U16 pairs
Twelve pairs from Sweden, Norway and Denmark participated in the U16 pairs. Christian Fredrik Johnsen – Magnus Saetre finally won after a great finish in the last round to secure the gold medals to Norway. Markus Bertheau – Andreas Abragi, Sweden came in second and in third place Aron Tylvad – Daniel Tylvad, Denmark.
Small Slam
In the second round of the U16 pairs Tiger and Isis Lundqvist managed to bid all the way to the small slam in clubs holding the following cards:
Dealer South. All Vul

K Q 10 9 8


Q 5


8 6 3 2


10 7

A Q


K 10 3


—


A K J 9 8 6 5 4
West
North
East
South
Tøsse
I. Lundqvist
Austad
T. Lundqvist
1 

*

1
1
2
3NT

**

Pass
5
Pass
6
Pass
Pass
Pass
At least three clubs, playing natural 5-5-3-3.
18-19 hp, 6+
6

was a very good contract, and for sure very difficult destinition to reach when both defenders competed without preempting to high and pushing them to the slam. In practical play its only queen-third wrong in trumps that could bring declarer down.
This was the full lay-out of the board:
K Q 10 9 8
Q 5
8 6 3 2
10 7
7 6 2
A J 8 7
A 10 9 7 5
2
5 4 3
9 6 4 2
K Q J 4
Q 3
A Q
K 10 3
—
A K J 9 8 6 5 4
West, Thomas Tøsse,did very well when he selected to lead away the the only card that kept declarer to just twelve tricks; the ace of hearts.
When that held, he tried the ace of diamonds, Tiger Lundqvist ruffed and cashed the ace of clubs. When both opponents followed suit she could pull the last trump and claim the remaining tricks.
The Swedish Lundqvist sisters was the only pair who managed to bid slam. Two pairs bid 5

, two pairs stopped in 4

and one pair went down in 3NT.
Results:
Final results U16: http://www.svenskbridge.se/tvl/278428/resultat#hem
Itchy Fingers: http://www.svenskbridge.se/tvl/278478
Crazy Pairs: http://www.svenskbridge.se/tvl/278418
Speedy Gonzales: http://www.svenskbridge.se/tvl/278420
Last Chance: http://www.svenskbridge.se/tvl/278423
Beside those tournaments the campers played a team tournament parallell to the U16 pair Championship.
Thanks
On behalf of the attending juniors the Swedish Bridge Federation would like to thank the WBF and EBL for their support to the camp and the championship.
Micke Melander
Swedish Bridge Federation
Don't forget to follow us @