Source: Australia Youth FaceBook
More from 2020 Australian Youth Week: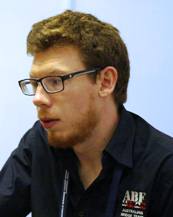 The Australia-NZ Youth Test Match was won by Australia (Renee Cooper-Andrew Spooner, Jamie Thompson–David Gue, Alex Phillips-James Palmer). NZ took an early lead in the first set but Australia won the next three sets to win 107-79. NZ was represented by Andi Boughey–Matt Brown, Jeremy Fraser-Hoskin – Jack James, and Ryan Song-Brad Johnston.
The Youth Teams Championship was a two-horse race race between the Australian SPOONER squad (Spooner-Cooper, Thompson-Gue) and the Kiwi SONG team (Ryan Song-Brad Johnston, Andi Boughey-Matt Brown). In the last three rounds, SPOONER barely dropped a VP and climbed into the lead to win the event.
The winners of the Teams will play a guest expert team in the Cliff Wake Challegne tonight (don't try and correct the spelling), a highly prestigious four-board BAM playoff inaugurated by Gruffydd Ware.
The next three days will see the Australian Junior Team Selection Butler contested to determine the 2020 Junior team.
Don't forget to follow us @