Source: http://www.eurobridge.org/
The 27th European Youth Team Championships have just concluded in Stokke, near Oslo, Norway. Sixty teams in total took part in the championships which were Europe's zonal qualifier for next year's youth world team championships.
There were 23 teams in the U26 category, which was won by Sweden, the defending champions, from the Netherlands and Germany. The other qualifiers for the world championships are Norway, Poland, Bulgaria, Israel and England.
There were 10 teams in the U21 series, which was won by the Netherlands, ahead of France and England. The other world championship qualifiers are Poland, Sweden and Italy.
There were nine teams in the U26 Women category, which was won by Poland, from Hungary and the Netherlands. France, Norway and Italy also qualified for the world championships.
There were 18 teams in the U16s, which was won by Israel, from Denmark and England. Also qualifying for the world championships are Poland, Sweden, France, the Netherlands, Norway, Turkey and Greece. Though the overall entry for the championships was not the biggest ever, the 18 teams in the U16 category did set a new record.
Click HERE to check all the info about the Championships.
EUROPEAN U26 TEAMS CHAMPIONSHIPS WINNERS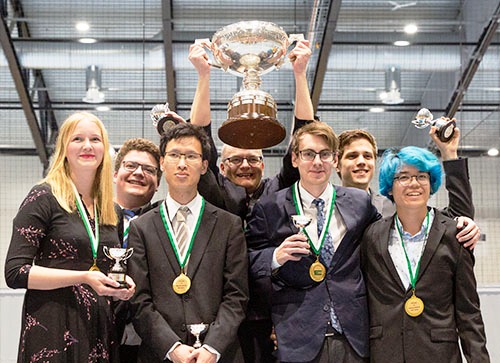 1st SWEDEN
(Ida GRONKVIST, Simon HULT, Johannes MATSSON, Johan SAFSTEN, Axel SELVEN, Tom GARDS npc, Daniel GULLBERG coach)
2nd NETHERLANDS
(Veri KILJAN, Guy MENDES DE LEON, Thibo SPRINKHUIZEN, Luc TIJSSEN, Tom VAN OVERBEEKE, Ricardo WESTERBEEK, Agnes SNELLERS npc, Wubbo DE BOER coach)
3rd GERMANY
(Florian ALTER, Maximilian LITTERST, Lauritz STRECK, Sibrand VAN OOSTEN, Hartmut KONDOCH npc)
EUROPEAN U21 TEAMS CHAMPIONSHIPS WINNERS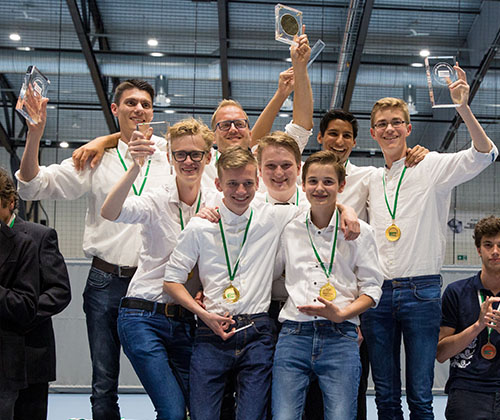 1st NETHERLANDS
(Xavier FRIESEN, Ronald GOOR, Dieter GOUDZWAARD, Oscar NIJSSEN, Tim VAN DE PAVERD, Tobias WESTERVELD, Ruben BUIJS (npc), Berend van den BOS (coach)
2nd FRANCE
(Luc BELLICAUD, Maxence FRAGOLA, Romaric GUTH, Victor LE LEZ, Hugo RABOURDIN, Nao TABATA, Thibault DELMAS-S (npc), Wilfried LIBBRECHT (coach)
3rd ENGLAND
(Samuel ANOYRKATIS, Elizabeth GAHAN, Harry MADDEN, Liam SANDERSON, Oscar SELBY, Daniel WINTER, Michael BYRNE (npc), Alex ROBERTS (coach)
EUROPEAN WOMEN U26 TEAMS CHAMPIONSHIPS WINNERS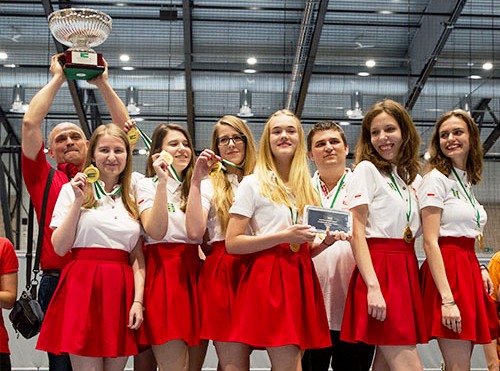 1st POLAND
(Zofia BALDYSZ, Joanna KOKOT, Dominika OCYLOK, Monika SUCHODOLSKA, Joanna ZALEWSKA, Anna ZAREBA, Rafal MARKS npc, Zuzanna MOSZCZYNSKA coach)
2nd HUNGARY
(Maria BEKO, Brigitta FISCHER, Hanka LAJOS, Hanna REVAI, Villo SZUCS, Andras HONYEK (npc)
3rd NETHERLANDS
(Juliet BERWALD, Malene Holm CHRISTENSEN, Sandra KOLEN, Mette LEJEUNE, Esther VISSER, Janneke WACKWITZ, Anneke SIMONS (npc), Aarnout HELMICH (coach)
EUROPEAN U16 TEAMS CHAMPIONSHIPS WINNERS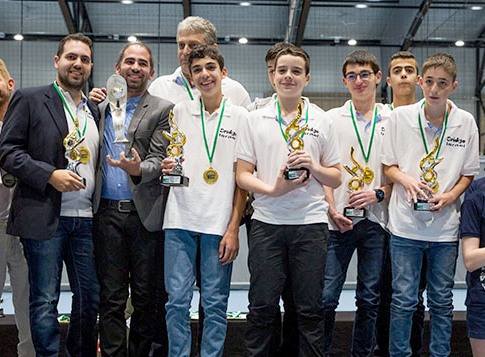 1st ISRAEL
(Lavi BATZIA GREENBERG, Noam BERGER, Ido MOSKOVITZ, Daniel MSIKA, Ofek SABBAH, Tal SAMOELOV, Danny LOONSTEIN (npc)
2nd DENMARK
(Amalie Rosa BUNE, Line HENRIKSEN, Alma Ertbjerg RASMUSSEN, Aron TYLVAD, Daniel TYLVAD, Georg WURTZ, Morten R. BUNE npc, Torsten E. RASMUSSEN coach)
3rd ENGLAND
(Jasmine BAKHSHI, Dido Mari Mirabelle COLEY, Jamie FEGARTY, Kimberley Rachel HUDSON, Henry ROSE, Theodore Cosmo SINCLAIR, Giorgio PROVENZA npc, Laura COVILL coach)
Don't forget – you can still enter for the 6th World Youth Open Bridge Championships being held in Croatia from 20 – 29 August.
Don't forget to follow us @