August 20, 2019
Today at 7 pm started the Opening Ceremony of the 6th World Youth Open Championships with the croatian anthem performed a capella by a sixteen years old singer: Medea Market Sindik.
Afterwards came the speeches of:
Mr Jurica Zaric, President of the Croatian Bridge Federation.
Mrs Vera Anicic, Opatija Deputy Mayor.
Mr Andrej Plenkovic, Prime Minister of the Republic of Croatia.
Before the presentation of the participating countries, Mr. Gianarrigo Rona (WBF President) awarded the winners of the 2nd WBF Youth OnLine Championships:
Under 16:  France the Runner-up and Poland the Gold Medalist.
Under 26: France the Runner Up and USA the Gold Medalist.
The ceremony continued with the presentation of the 36 countries participating in the championships.
After that the Sheng Xing Bridge Club of Shangai performed a beautiful dance for all the people and Lara Ladovic pronounced the oath on behalf of all the athletes, Mr Dusko Krautsak on behalf of the Tournament Directors and all the officials. Next Miss Medea Market Sindik performed Euphoria, the athletes applauded her with great enthusiasm.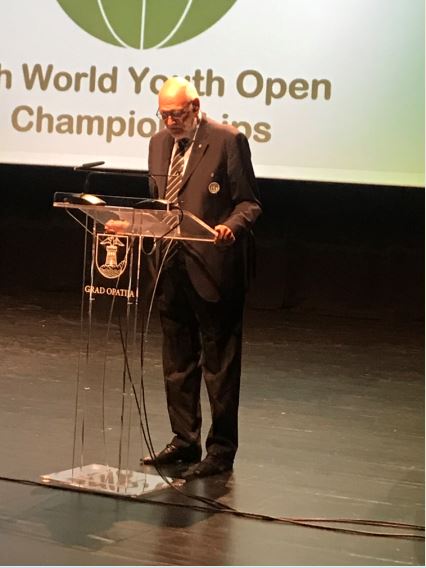 At the end of the ceremony Mr. Gianarrigo Rona (WBF President) officially opened the 6th World Youth Open Championships and the audience was invited to enjoy an amazing refreshment.
Don't forget to follow us @