Junior battle on RealBridge: James Holzhauer v Zach Grossack
A great opportunity to see USA's finest juniors in the United States Bridge Federation junior training program take part in an exhibition match.
James Holzhauer (of Jeopardy! fame), and Zach Grossack each captain a team. Commentators are international stars of the game, Larry Cohen and George Jacobs. You will see and hear them, live, commentating. Ask them a question in text or in video.
What system are they playing?  All players are playing the same standard 2/1 system, but will they bid the same way? Once the players have settled on the team convention card, you will be able to see it by clicking here.
How do you watch?  Click kibitz.realbridge.online  No account is needed, just put your name in and join the event.
Player biographies are under the poster.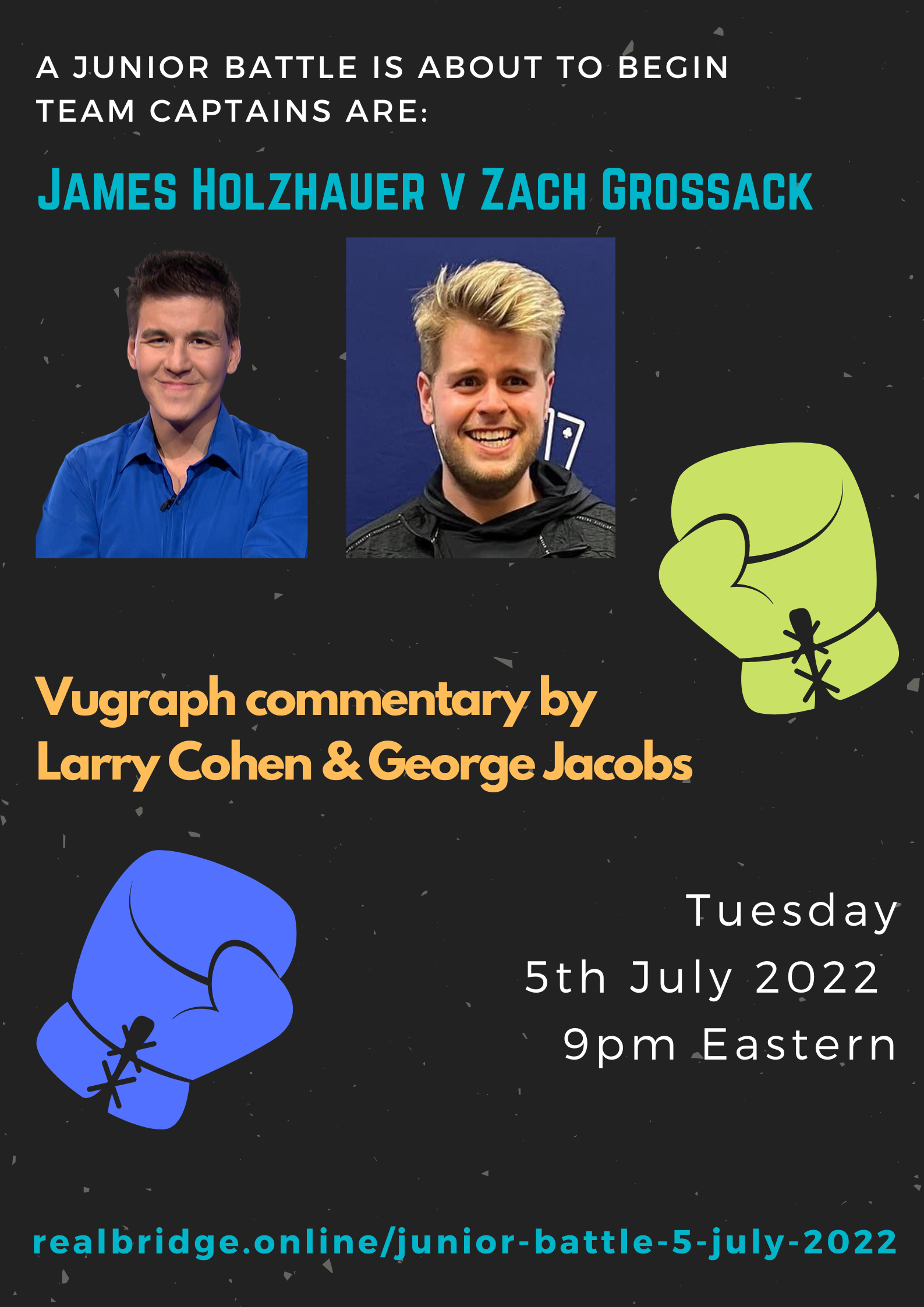 Harrison Luba: I am 18 years old and my grandparents and great-grandmother taught me bridge at the age of 8 in South Carolina. I moved to Massachusetts when I was 12 and have played competitively ever since. I am going to be a freshman at Emory University in the Fall, planning to study chemistry.
Luke Williams: I am a 21 year old who grew up in San Diego and recently moved to Seattle. My grandparents taught my brother and me to play bridge when I was 9 and he was 12, and we've played together ever since. I'm entering my senior year at Pomona College where I study politics and psychology.
Jake Williams: My brother and I learned to play together in San Diego. I attended Harvey Mudd College where I competed collegiately in both bridge and tennis. I am now 24 and attending the University of Chicago, where I am working towards a PhD in Computer Science, focusing on machine learning and inverse problems.
Michael Xu: Five days from now I'll be 19. I grew up in the Bay Area, California, and I currently study mathematics and computer science at Amherst College. I am not sure of what I want to do in the future, but currently quant trading and software engineering seems intriguing. My bridge goal is to win a big event with my mentor, Michael Rosenberg.
William Scott: I am 23, I graduated from Tufts University in 2021 and am a software developer in the healthcare industry.  I learned to play bridge at age 12 but started playing more seriously in 2019, and my favorite contract to declare is four hearts (one notrump is a close second). Outside of bridge, I enjoy distance running and following the NBA.
Reese Koppel: I study behavioral economics and data science at Yale. Besides bridge, I dabble in chess, music production (both house music and engineering beats), tennis and golf. I love reading and watching my hometown New Orleans Pelicans and Saints. Within the bridge world, I was the 2018 ACBL King of Bridge, I serve as a trustee on the ACBL Educational Foundation and I have coached bridge both at Yale as well as privately.
Don't forget to follow us @