Source: ACBL
The University of California at Berkeley won the 2018 Collegiate Bridge Bowl by defeating the Georgia Tech Gold team 78-37 in the final of the contest, held during the Summer NABC in Atlanta.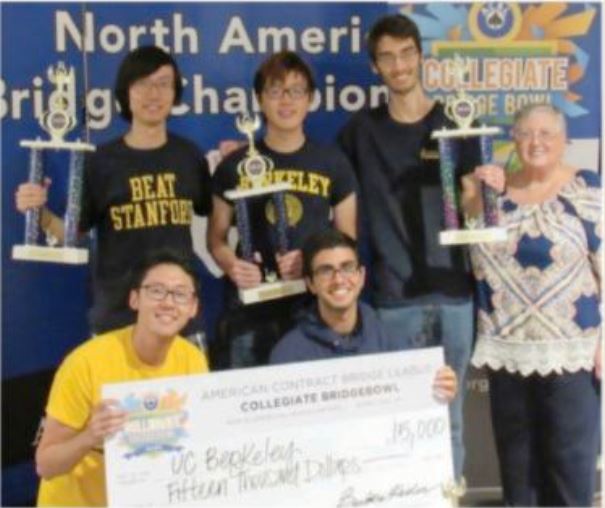 Playing for the victorious Berkeley Bears were Chengwei Li, Kevin Rosenberg, Mingyang Zhou, Xinchen Zhu and Armin Askari.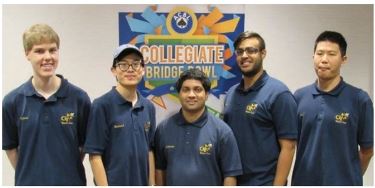 The Georgia Tech Gold lineup featured Cyrus Hettle, Richard Jeng, Santhosh Kamik, Arjun Dhir and Zhuangdi Xu.
In the semifinal round, Berkeley edged out Columbia University by 6 IMPs to make it to the big game where, after gaining a 40-IMP advantage in the first half; they cruised to the win.
In the other semifinal bracket, Georgia Tech – last year's Bridge Bowl champ – beat Harvey Mudd College on their way to the final. In the playoff for third-fourth, Harvey Mudd prevailed by 10 IMPs against Columbia, 57-47. Scholarships for $15,000, $10,000, $5000 and 32500 were awarded to the top four teams. Ten squads entered this year's collegiate contest which, for the first time, was open to any university/college team; there was no online qualifying round.
Georgia Tech Gold was the runner-up in the Collegiate Bridge Bowl: Cyrus Hettle. Richard Jeng, Santhosh Karnik. Arjun Ohm Zhuangdi Xu.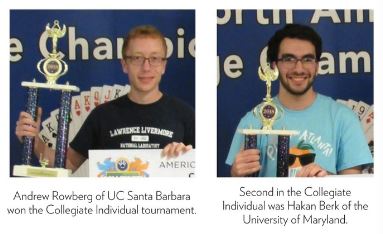 The inaugural running of the Collegiate Individual tournament was won by Andrew Rowberg from the University of California at Santa Barbara. Contestants played with a different partner each round. Rowberg, who is in his third year of a doctoral program in material science at Santa Barbara, dropped into the Individual when his squad was eliminated from the team competition. His win netted him $2000 in scholarship money. Runner-up Hakan Berk of Potomac MD picked up $1000, while Ben Kristensen, from Duluth MN, earned $500 scholarship funding for his third-place finish. Funding for the scholarships and travel subsidies for 10 teams was provided by the ACBL Education-al Foundation and the ACBL.
Don't forget to follow us @