China Qualifies in All APBF Youth Finals. There was dramatic action on the last day of qualifying in the Raymond Chow Cup. Before the last round took place, China had a 7-VP lead over Indonesia who had 5 VPs ahead of Singapore. When…

Source: Bulletin 6
10th April 2019
China Qualifies in All APBF Youth Finals 
There was dramatic action on the last day of qualifying in the Raymond Chow Cup. Before the last round took place, China had a 7-VP lead over Indonesia who had 5 VPs ahead of Singapore. When the last round completed, against Chinese Taipei, Singapore was defeated with just collecting 7.56 VPs. Unexpectedly, Indonesia had to be routed by China to fall from second to third, suffering a huge lost 3-63 IMPs, that was 0.00-20.00 VPs. With this result, China and Singapore manage to be the top two repeating what they did two years ago in 21st APBF Youth Teams, Korea. Singapore has the 3 IMPs carry over to start the three segment of final today.
In the Girls, Shanghai Chenyi ensured a ticket to the final after overcoming Indonesia 12.55-7.45 VPs and impressively crashing Singapore 20.00-00.00 VPs. Shanghai Chenyi takes the advantage of having 12 IMPs carry over against Indonesia.
For the Youngster, China gets 12 IMPs lead against their Japanese opponents. In the Kids, the final will be between SX Venus and SX Mars.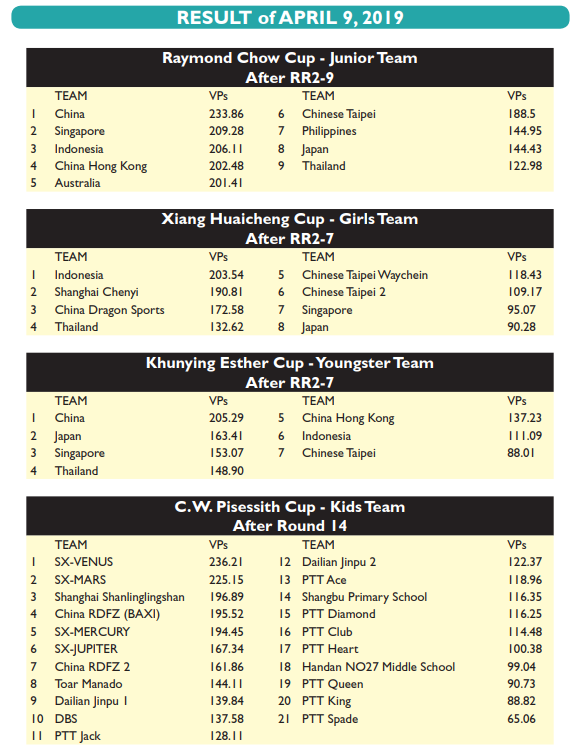 Don't forget to follow us @