Source: 36th Nordic Bridge Championships Bulletins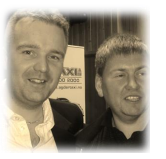 Geir Helgemo is my hero. His way of bridge is pure gold. He is missed at the Norwegian team, there have been to many championships at another national team! Helgemo saved me at this board when we faced a strong running Faroe Islands.
I got to think about one of Helgemos many wise tips; when in doubt go for the highest score!
Here is what you see as south: 

We play precision, but you do hope pd holds a few diamonds. Do you have a clear choice of bid? It is a guess, pass, 6

, 6NT, 5NT?
I figured pd to hold clubs since he seemed to be short spade. So I picked up Helgemo's advice and bid 6

. Not my Worst decision, the full hand: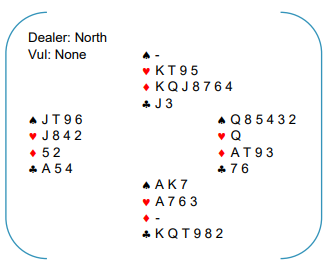 West led Jack of spade, plan the play. You can ruff a spade, discard heart on AK spade and ruff a heart hoping for a 3-2 split. Hey, isn't there another chance to explore? How about king of diamond first? If East cover, you win without 3-2 in heart. If he plays low you go back to the heart ruff. So I asked for king of diamond, ace, ruff, low. King of club came next and the contract made, +920!
Thanks, Geir Helgemo, I hope you have more advises next time around.
Don't forget – you can still enter for the 6th World Youth Open Bridge Championships being held in Croatia from 20 – 29 August.
Don't forget to follow us @