Source: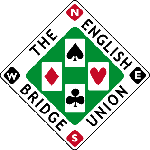 EBU
Starting on 2nd September you will be able to play in EBU competitions on Funbridge.
In these competitions you will partner one of Funbridge's 'robots', and play against two other robots. You therefore don't need a 'human partner' to take part, and you can play whenever you wish as you don't need human opponents online at the same time.

The competitions consist of 20 boards, and you can play them at any time during the competition period, stopping and restarting as often as you wish. The games will take place on Saturdays and Sunday, between midnight and 10pm (i.e. you have 22 hours to play your boards).
Acol is one of the bidding systems available for you to choose (which isn't always the case with some online platforms), and you can set which conventions and carding methods you and your robotic partner play.
The games cost €2 (by charging you in Euros we can charge less than £2), and Master Points can be won. The competitions are open to everyone.
We hope you will take part. Please see the FAQ for more details on the competitions and for information on how to play.
Watch the Crockfords Cup live on Funbridge
Not only does Funbridge offer ways to take part in competitions, and to play practice hands to develop your game, but they will also be showing live coverage of matches.
They were official partners of the World Bridge Championships in Lyon, and broadcastedive coverage of matches.
The EBU will also be using Funbridge to show coverage of the finals of the Crockfords Cup on 2nd & 3rd September.
More details on the coverage can be seen here. As it coincides with the start of our online competitions we hope you will combine watching with taking part in those (stopping and restarting the competition as required during breaks in play).