Source: ACBL Daily Bulletins
More than a hundred young players ages 7 to 22 attended the Junior Day party on Saturday evening at the Tabletop Tap House, where they filled the event space to capacity and then some.
The younger kids mostly congregated around the foosball table while the teenagers gathered in small clusters or tried to find the less awkward places to stand in the crowded room.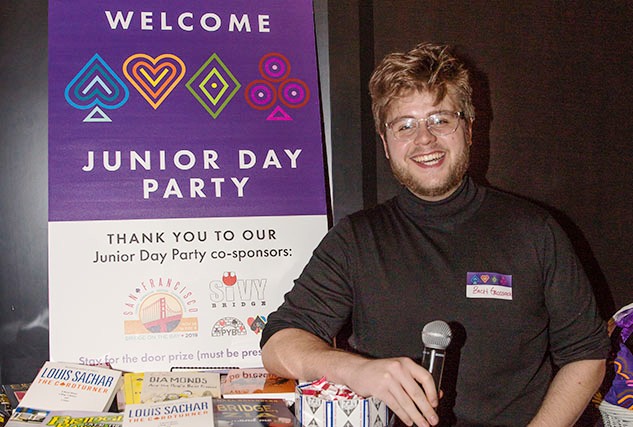 The event was emceed by Zach Grossack, who recently became the youngest Grand Life Master on record at 22. "I'm way over the average age in this room," Grossack said. "That hasn't happened in so long."
Most of them came from one of three local organizations – Silicon Valley Youth Bridge, Peninsula Youth Bridge and the Center for Bridge Education – but there were a handful of players from other parts of the country and Canada, as well as a few from Europe and Asia.
Grossack introduced a dozen special guests – six current Juniors and six others who were either former Juniors from the past decade or organizers of the Junior program. The event program contained a quote from each of the special guests, and those in attendance were challenged to guess who said what. Junior Day party draws crowd Examples:
• "My biggest bridge mistake ever was getting famous. Opponents underestimating me for looking young and innocent used to give a lot of advantages." – Cecilia Rimstedt
• "The key to winning junior bridge is scoring at least two of your cashing aces against most slams." – Sarah Youngquist Zach Grossack emceed the Junior Day party.
• "Sadly the importance of the beer card has decreased the last few years." – Dennis Bilde
• "The difference between old person bridge and junior bridge is that you win at old person bridge by playing like a junior, and you win at junior bridge by playing like an old person." – Cornelius Duffie As Grossack read off the quotes and called for guesses, one player consistently got them all right: Harrison Luba of Lynnfield MA.
Luba had a secret to his success: Online research. "I looked in the Well on Bridge Winners and control-F'd it," Luba said. "But Sylvia's was hard because there were multiple people who said the same thing."
The event was organized by the co-chairs of the Intermediate/Newcomer Program for the San Francisco NABC, Cheryl Haines, Janelle Van Rensselaer and Stephanie Youngquist.
There were about 130 in attendance, including a few adults who were organizers. It was better than they expected, Van Rensselaer said. "The age group was so diverse but everyone got along," Van Rensselaer said. "It was an international event as well as a bridge event. It was very nice."
Don't forget to follow us @