Source: https://intobridge.com/news/juniors-on-intobridge/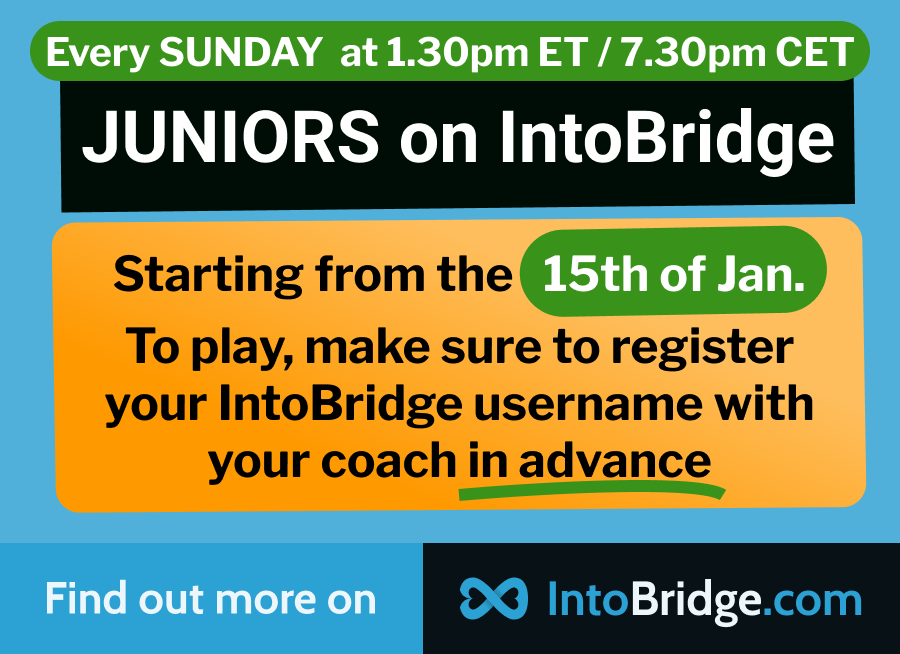 IntoBridge is happy to announce the start of a weekly pairs game for junior players.
Recently, we were approached by juniors looking to organize a regular game on IntoBridge. Having multiple current and ex-junior players on our team, we embraced the idea, offering to host and direct the games.
20 boards will be played in a Swiss* pairs format. The scoring will alternate between Matchpoints and IMPs every week. The game is open to all juniors. However, to ensure we only let juniors in, we request all players interested in playing to create an account on IntoBridge and let their national coach/coordinator know their username, so we can include it in a list of allowed users.
Upon interest, we may start running two games in parallel, one for the more experienced players practicing to get into their national team or already there and those looking to gain more experience in a less competitive environment.
The first game will be held on the 15th of January, Sunday, at 10.30 am PT / 1.30 pm ET / 6.30 pm GMT / 7.30 pm CET. From then on, it will continue every Sunday at the same time.
If you want to play but don't have a partner, register on the Partnership Desk or invite someone already registered. Hosts will be available to ensure every junior will get a game.
If you want to get in touch, please email us at juniors@intobridge.com.
IntoBridge is a free online platform for playing our favourite game. Casual tables, Team matches and Pairs tournaments are available 24/7. Each player can choose how to communicate – audio-video or just audio, or just chat. Personal statistics are available after each pairs game.
*Swiss (movement) – the pairs get paired for the next round depending on their current score. The first will play against the second, the third will play the fourth and so on. For one exception – you can meet the same pair only once. So in case, the first has already played the second, it will instead play against the third. And so on…
Don't forget to follow us @