Source: www.cavendish.bridgemonaco.com
We are in the match Lavazza vs Vytas (first round). Here comes a "high level" board. At most tables, East-West pushed their opponents to 5 Spades. Giovanni Donati did not need to be pushed!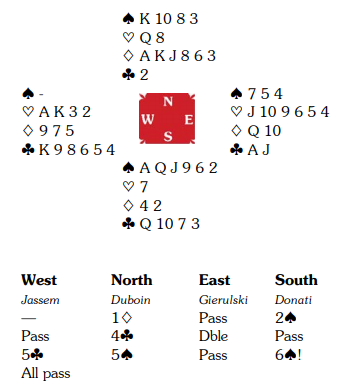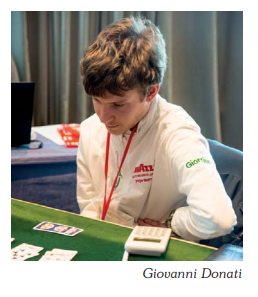 West led the ace of hearts and, expecting to make another heart and not a club, continued hearts. Donati ruffed and soon discovered that West was void in spades.
After the double of 4

by RHO and the subsequent 5

by LHO, the young Italian thought the clubs were 4-6. So, he vizualized a 0-6-3-4 hand in West. When East furnished the 10 on the ace of diamonds and when West did not play the 9 on the second round, Donati called the king from dummy. 6 Spades made!
Success is not an issue…
Don't forget to follow us @