Source: www.nrk.no
Markus Hansen Moe is engulfed by bridge and is constantly winning tournaments against adult players. Former Norwegian champion of bridge believes the eight-year-old is the card game's answer to Magnus Carlsen (Sven Magnus Øen Carlsen is a Norwegian chess grandmaster and the current World Chess Champion.)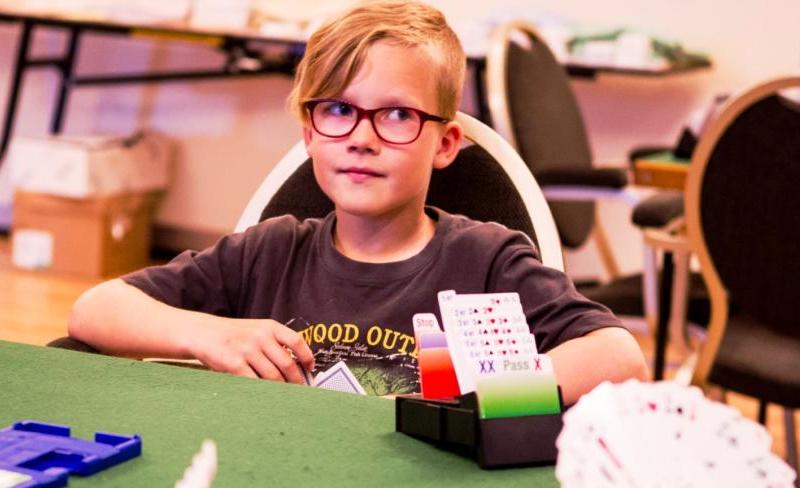 When Markus Hansen Moe from Sandnessjøen in Nordland was six years old, he learned to play bridge with his mother and father. He is now eight years old and already well into the Norwegian elite.
As usual, Markus plays in the Helgeland Junior Bridge Club. The club is led by former Norwegian champion, Kurt Ove Thomassen.
– The boy is a great talent! I have said for a long time that we are dealing with the bridge's response to Magnus Carlsen.
Thomassen knows Mark well, and has helped to make a plan that will make him even better.
– He will, among other things, attend meetings for potential national team players. It is important that he gets good matching, but he must also be taken care of so that he does not look at it all as a struggle. After all, he is only eight years old.
His Dad tells how the six-year-old became a bridge player.
– Both me and his mom play bridge. He wanted to play too, but we said he was too small. He continued asking, and finally we sat down at the kitchen table and showed him a little. Then it was done. He took it a lot easier than we thought.
At this time, Markus was still in 1st grade.
– He couldn't add and substract, so we had to teach him. We started at the living room table and after a short while he started playing against bridge robots.
Daddy Håvard tells that Markus is still completely engrossed in the game. Mostly, he plays three times a week in various local bridge clubs. On weekends there are tournaments.
Last week he won a nationwide bridge tournament, with dad as a partner.
No Magnus Carlsen
Thomassen believes there are no limits to what "bridge's Magnus Carlsen" can achieve.
– Markus is absolutely exceptional. Such a young player who performs so well so early. I have to rub my eyes and wonder if this is the case.
Although the parents appreciate the warm words about their son, Daddy Håvard believes that comparing his son to Magnus Carlsen is hard to believe.
– Mark does not do anything inhumane, so I think that is a bit exaggerated.
For even Mark of eight years has its limitations.
– When Mark meets good bridge players, he is beaten, says his father. But occasionally he is better than the adults.
Daddy Håvard says that they want to make sure that bridge should be fun. If Markus doesn't think this is funny, we step down immediately, says Moe.
– He has to want it himself in order for us to think it's okay. At this age, if he suddenly find out that something else is fun. then he must be allowed to do so.
More records
But it's not hard to see where the brag comes from. The eight-year-old already has several records.
At the age of seven, he was the youngest to receive the "Club Champion" award. Now he has set the record as the youngest to receive the "Router Champion" award.
In addition, he is the youngest player to have won a Norwegian simultaneous tournament. He is probably now the youngest in the world to have won a national simultaneous tournament, says former Norwegian champion in bridge and manager of Helgeland Juniorbridgeklubb, Kurt Ove Thomassen.
Don't forget to follow us @