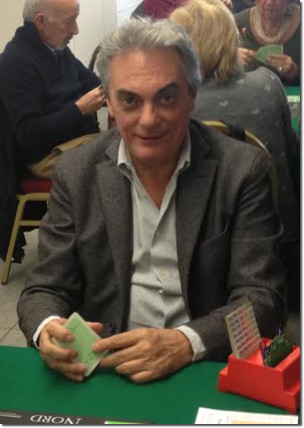 How many times have you doubts about yourself and wondered: "I am a true bridge player ?" or "What I miss to become a real bridge player ?"
To answer these questions we have prepared a text.
For each question, choose one of indicated answer and the final score will give you the answer you are looking for.
Question n. 1
Saturday afternoon, you have to go out with your sister, someone is looking for you on the phone for a duplicate.
Your first reaction is:
a) OMG (oh my god) I get ride of my sister
b) I don't known what to do
c) I want to respect the commitments made
Question n. 2
Last hand of the tournament, maybe you are in prize, your partner cuts one of your winner with the Ace of trump. Absolute zero from here to eternity.
What do you say to him ?
a) you are stupid
b) It's a shame, you've played well so far
c) Here your career with me is over
Question n. 3
You meet your math professor as an opps in a tournament, he plays very badly 3NT and he goes 3 down. He ask you: "Where I went wrong ?"
You answer him:
a) Everything
b) Be silent, waiting for the change
c) Try to convince him that it was just unlucky
Question n. 4
In the evening you could have a mtg (meeting) with a nottie (attractive person).
You would give up for a duplicate ?
a) Absolutely not
b) What kind of dupli ?
c) Yes, of course
Question n. 5
Tik Tok, a massege on whatsapp: "Come on BBO, Mahamood".
What do you answer ?
a) RYFS (are you freakin' serious), Zia ?
b) I don't know any Mahamood
c) Zia Mahamood the bridge champion ?
Calculate your score:
Answer    n. 1
a) 10
b) 3
c) 1
Answer    n. 2
a) 7
b) 3
c) 10
Answer    n. 3
a) 10
b) 5
c) 3
Answer     n. 4
a) 2
b) 4
c) 10
Answer     n. 5
a) 10
b) 2
c) 8
11 – 20
No aptitude for bridge, biting zero, you will never win a tournament
21 – 30
Don't worry, you are enrolled in the sect of bridge, but the road is long
31 – 40
You are a little tired and stressed, do not exceed 20 boards per day
41 – 50
You are seriously ill for bridge
Don't forget to follow us @