Source: http://cdn.acbl.org/nabc/2018/02/bulletins/db3.pdf
Dealer North. Both Vul
6 4
K 8 6 3
A 7 6 5
K 5 2
K Q 10 7
J 10 2
9 4 3
Q 10 7
J 9 3
Q 9
Q J 10 2
9 8 6 3
A 8 5 2
A 7 5 4
K 8
A J 4
| | | | |
| --- | --- | --- | --- |
| West | North | East | South |
| | Pass | Pass | 1NT |
| Pass | 2 | Pass | 2 |
| Pass | 4 | End | |
Opening lead:

K
Bidding commentary: With two four-card majors, bid hearts first when partner bids 2

(Stayman). However, some bid the stronger major first in case responder also has both majors. If so, the partnership plays in the stronger 4-4 fit.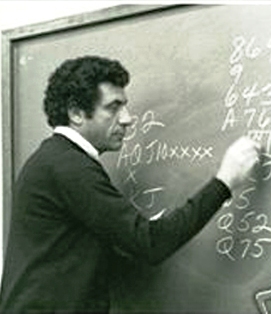 Defensive commentary: As East, when partner leads a king from the K-Q, denying the ace, signal encouragement with the ace or jack, not with a doubleton.
As West, if your king wins the trick, watch partner's signal carefully. If partner has discouraged, denying the ace
or jack, declarer probably has the A-Jx-(x) and could be sitting in the bushes hoping you continue the suit. In this case, East encourages with the

9, so it is safe to continue the suit.
Play commentary: A spade trick must be lost in any event, so as South, duck the first round and win the second, retaining control of the suit.
Also, when you have a side suit divided 3-3 (clubs) that entails a finesse for a queen, save that suit until the end. Sometimes a friendly West will lead the suit, ending the need to take a finesse.
Play commentary 2: With side-suit shortness in spades and diamonds, both suits
under control after the first-round duck in spades, win West's likely spade return, play the

A and

K and crossruff spades and diamonds. If you are overruffed, it will be with the high trump, so no matter. The way the cards lie, if you start by ruffing a spade before a diamond, you will score 11 tricks without needing the club finesse!