Again we are inviting all youth players and NBO:s to come and participapte in the Swedish Bridge Festival.

The dates when it all happens are July 28 – August 6 2023, and we return to our magnificent location in Örebro. The first ten teams (maximum one team per NBO) to enter will receive the following:
• Free participation in the Chairman's Cup, July 29 – August 3.
• Free participation in all morning bronze tournaments.
• Two double rooms for free in Scandic Hotel Väst including breakfast from July 28 to August 4.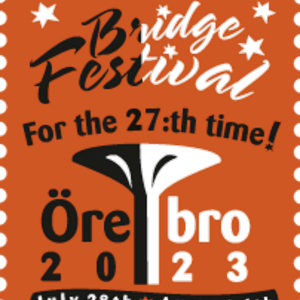 • Special offer for extended nights and/or more rooms.
For youth teams above the ten team quota, all the above will apply with the exception of the free hotel rooms.
There are money prizes and master points given in all tournaments.
More information about the Swedish Bridge Festival can be found here: www.svenskbridge.se/eng
Link for official programme and more information:
https://www.svenskbridge.se/sites/default/files/official_documents/festivalreklam_engelska_2023.pdf
If you have any questions or want to make an entry, contact: Micke Melander, mme@svenskbridge.se.
Micke Melander
Swedish Bridge Federation
Don't forget to follow us @