Source: ACBL
King/Queen of Bridge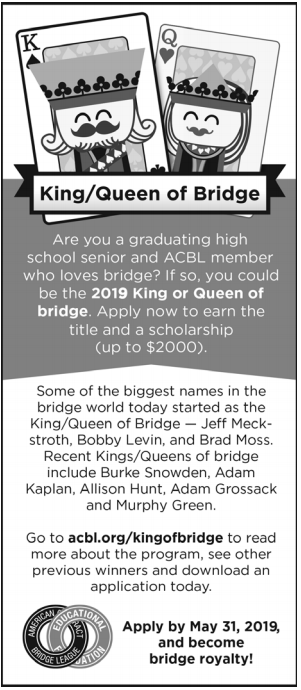 Are you a graduating high school senior and ACBL member who loves bridge?
If so, you could be the 2019 King or Queen of bridge. Apply now to earn the title and a scholarship (up to $2000).
Some of the biggest names in the bridge world today started as the King/Queen of Bridge — Jeff Meckstroth, Bobby Levin, and Brad Moss.
Recent Kings/Queens of bridge include Burke Snowden, Adam Kaplan, Allison Hunt, Adam Grossack and Murphy Green.
Go to acbl.org/kingofbridge to read more about the program, see other previous winners and download an application today.
Apply by May 31, 2019, and become bridge royalty! 
2018 King of Bridge
Reese Koppel
Metairie, La.
Over the course of eight short years, Reese Koppel has gone from knowing nothing about bridge to being one of its fiercest advocates. His enthusiasm for the game prompted the ACBL's Educational Foundation's selection of Koppel as the 2018 King of Bridge. He attended his first bridge camp at 15 and went on to become a camp counselor at the National Youth Bridge Camp in Carlinville, Ill., in 2017 and the Michigan Youth Bridge Camp in 2018. As a player, he is ranked as an Advanced NABC Life Master with more than 330 masterpoints. He captained a team that competed in the 2017 Junior United States Bridge Championships, and in August 2018,he  claimed the Baron Barclay National Youth Open Pairs event during the Youth North American Bridge Championships in Atlanta. Koppel attends Yale University, where he studies statistics and data science.
Don't forget to follow us @