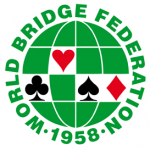 5th FunBridge World Youth Open Championships
Lyon, France • 15 – 24 August 2017
August 20th
This is a TripAdvisor opinion over: Basilique Notre Dame de Fourviere
It's well worth the approx 20 minute steep hike up the winding road to this gorgeous basilica, but if you are faint of heart (or breath), take the funicular from Vieux Lyon station which will zip you up there in no time! The views of the city from the walls around the cathedral are spectacular, and from the left side you can also wander down into the gardens below (which could be a nice way to do your descent), which must be exquisite in June-July when the hydrangeas and roses would be in full bloom. The church itself has had its facade recently restored and is a stunning example of gothic architecture. But it's the inside that is really original, with mosaics covering almost every surface–walls, ceiling and floors–with massive frescoes. Gorgeous! Not to be missed.
As you have spectacular spectacular views over Lyon from the Basilique Notre Dame de Fourviere BBO gives kibitzers an espectacular view over the bridge tables.
Here are some boards (with different points of view) from a Junior Team Match:
Villa Fabbriche vs China RDFZ Sidney
These were the standings, before the match: China RDFZ Sidney was leading the field with 74.41; Villa Fabbriche was third with 64.24.
Board 23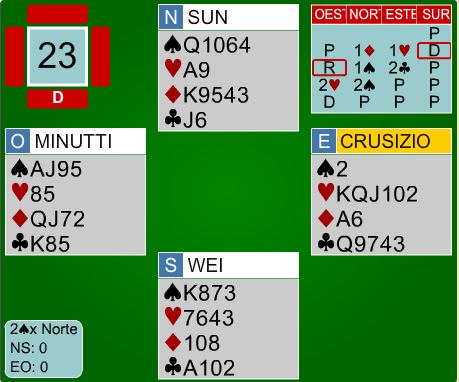 The partnership from Villa Fabbriche: Minutti-Crusizio chose to penalize 2

as the final contract of the board.
Lead:

K
Declarer won the lead with his ace and played a club to the

10, Minutti won with his king and returned his last heart. Crusizio won the trick with his

10  and left his hand playing his trump.
Declarer played low from dummy, Miunutti played the 

9, and finally the ten won. Now came another club to the ace, and a diamond. West played low, declarer played the

9 and Crusizio played the 

A.
War was over, now the contract was cold. Crusizio played a club, and declarer ruffed in his hand to play the 

K and afterwards ruff a diamond in dummy. He continued ruffing a heart in his hand claiming 8 tricks for +670.
At the other table E/W played 3NT done, so 15 IMPs for China RFDZ Sinrey.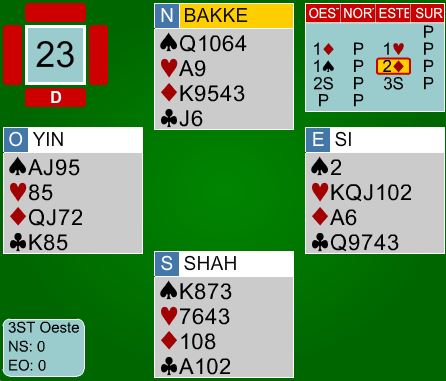 Lead: 

3
Declarer's 

Q won the first trick and back came a heart. Bakke won with his ace and played a small diamond to dummy's ace. Declarer decided to start working the club suit and played a small club. Shah played low too, and dummy's 

K won the trick.
SI continued with four heart rounds, arriving to this final: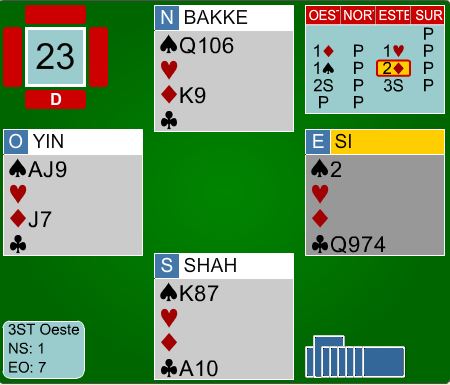 Now he played the 

2, Shah played low, declarer played low from the table and claimed.
Board 28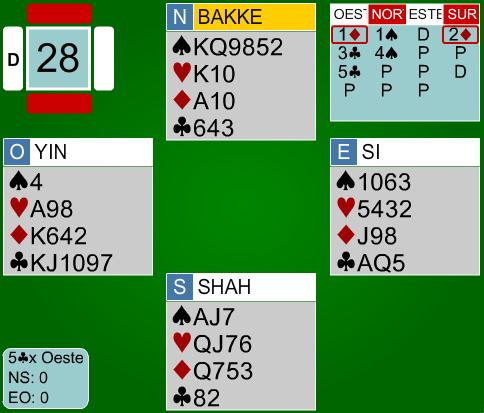 After West's 1

 opening bid, N/S arrived to a 4

 contract. Yin chose to defend to 5

and Shah doubled.
Lead: 

K
Shah covered his partner's king with his ace to play the

Q. Yin played his ace, and Bakke his king. Yin cashed the 

J and continued with a diamond,

10,

J

Q.
Shah played a diamond to his partner's ace and back came a heart. Shah won with his valet and returned a diamond for a ruff. Yin ruffed the spade return and claimed -800. At the other room N/S only played 3

, but gave them 12 IMPs.
 Round 29: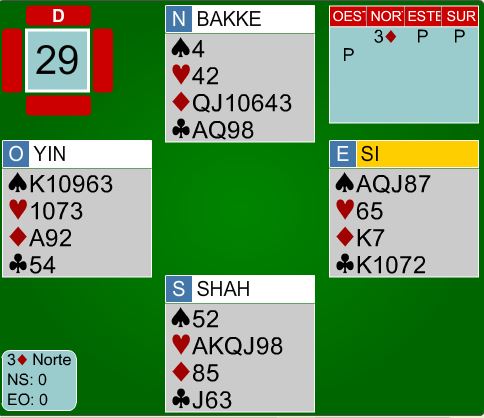 Bakke opened his hand with 3

 and bought the board. He made easy 10 tricks with a heart lead, he only lose two diamonds and a club.
At the other table: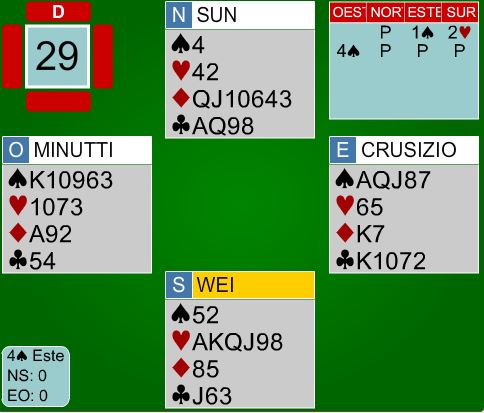 After North pass, E/W very fast arrived to the spade contract. And with the well placed club ace, declarer had 10 easy tricks. 13 IMPs for Villa Fabbriche.
The match ended Villa Fabbriche. 47 – China RDFZ Synrey 21. And Villa Fabbriche was now the new leader.
This are the results of all the boards of the match: