Unique chance for You as a youth and your NBO
Again we are inviting all youth players and NBO:s to come and participapte in the Swedish Bridge Festival. The dates when it all happens are July 24 – August 2, and we return to our magnificent location in Örebro.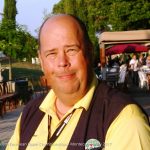 We will follow up the success from 2019, when we saw a record of 20 youth teams from 15 NBOs playing in the Chairman's Cup (teams). In addition we will launch a new event, The Swedish Open Junior Pairs and as a world first it will be played on tablets!
The first 15 teams (maximum one per NBO) to enter will receive the following:
• Free participation in the Swedish Open Junior Pairs, July 24-25.
• Free particiaption in the Chairman's Cup, July 25-30.
• Free participation in all morning bronze tournaments.
• Two double rooms for free in Scandic Hotel Väst including breakfast from July 23 to July 31.
• Good offer for extended nights and/or more rooms. 205 SEK/person/night.
• Good offer to play the Gold Mine Pairs and all side events the last weekend, July 31 – August 2.
For youth teams above the 15-team quota, all the above will apply with the exception of the free hotel rooms.
There are money prizes and master points given in all tournaments.
More information about the Swedish Bridge Festival may be found here: www.svenskbridge.se/eng , don´t miss to download our leaflet or to read more about the Bridge Festival that offers a wide variety of tournaments to play every day.
If you have any questions or want to make an entry, contact: Micke Melander, mme@svenskbridge.se
Last but not least, some nice words from 2019:
Thank you for hosting and supporting such a wonderful initiative. It was terrific to see that you had a robust entry to your event and we hope to participate again next year. Kim Frazer, Australia
Many thanks for having us and congratulations for smoothly run giant tournaments!
Rainer Rezler, Rumania.
Thank you for inviting our Juniors. Our teams very much enjoyed participating!
Paul Barden, England.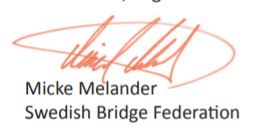 Don't forget to follow us @