52nd Australian Youth Bridge Championships




Canberra, ACT, January 4th – 10th




Bulletin 7; January 10th, 2020
Bertie Bartley Beating Butler
Tassie's Taze's Handicap cap
The Butler Final and Consolation are about halfway through, and the current leaders are Bertie Morgan & George Bartley, from Jamie Thompson & David Gue. The play today starts at 9am for the finalists. Good luck to all! One consolation of playing in the Consolation is that you get a sleep in until 11! The Consolation is underway as well with Matty B and Arran Lemon leading with two rounds to go. Enjoy your sleep-in boys, and good luck to all! There as a handicap score calculated as part of Wednesday's Qualification Butler.
Details inside. Bridge streamer V8mama sponsored the event, with the winning pair on handicap winning caps and cash. Winners are grinners, see Ben and Taze on this page. All the events finish at around 4 pm today, just in time for international flights, car rides home and for those staying, there will be a non-bbq in Corroboree Park in Ainslie. See Edmond for details. Thanks to all of you for making this Youth Week so much fun. A Huge thanks to Matty for making everything run so smoothly, and thanks to Johnno and Edmond for all the organising in the lead up to the event. Happy Bridging to everyone, and see you all in 2021.
Will Jenner-O'Shea Bulletin Editor and poor typist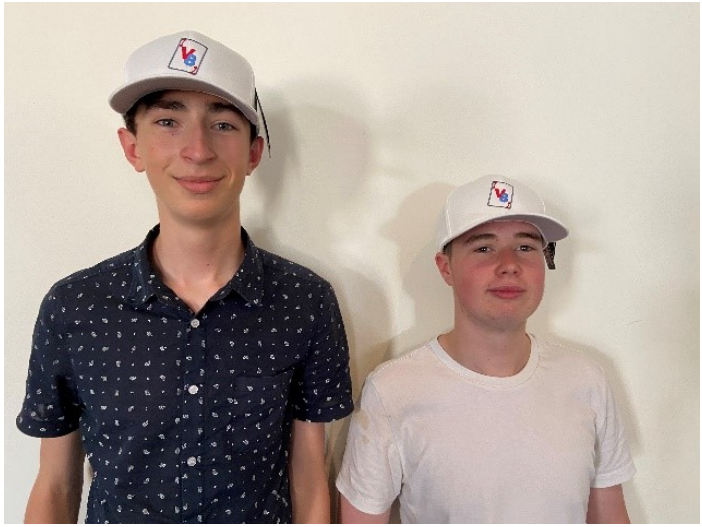 Ben and Taze win hats and cash in Butler
Butler Final and Consolation
The Butlers started yesterday and continue today with three more matches.
The Youth Butler Final, which is used to select the Australian Under 25 or Under 26 Team has completed four rounds, with Youngsters Bertie Morgan and George Bartley currently leading. Second and third are both seasoned junior pairs with some overseas experience Jamie Thompson & David Gue (2nd) and Renee Cooper & Andrew Spooner (3rd). There are still three matches to go, so Alex & James, John & Seb or one of other pairs could make a late surge into the top 3.
In the Youth Butler Consolation, Matty B and Arran Lemon (54.81 VPs) have a comfortable lead over Ryan Song & Brad Johnston (54.8 VPs). We will see how this one wraps up as well.
Some of these players will be attending National or International bridge events this year as well, but playing for New Zealand.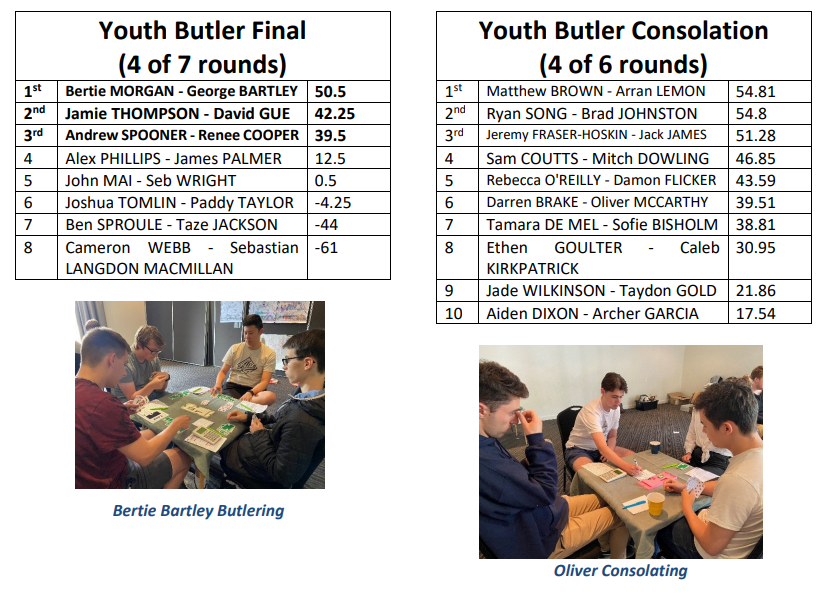 Don't forget to follow us @