Source:
52nd Australian Youth Bridge Championships




Canberra, ACT, January 4th – 10th




Bulletin 7; January 10th, 2020
Andrew Reiner Trophy (Best International Performance)
Jamie Thompson and Matt Smith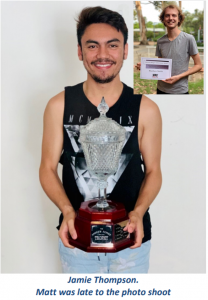 This award is granted to the best performed pair in the primary target international event, taking account of performance in the event itself, commitment to preparation and contribution to team success. Matt and Jamie finished 2nd in Pairs in Croatia, with Jamie ranked 3rd overall this year. Over the year, the pair was the standout pair on the Australian Youth Team. Competing in the Netherlands, Thailand, Sweden and Croatia they consistently bought back positive results and catapulted Australia into open and youth final series over the year.
Helman-Klinger Achievement (Overall good everything)
Nico Ranson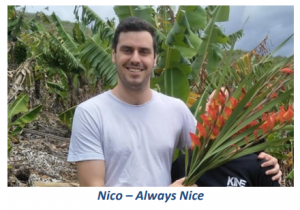 This award, worth $400 annually and supplemented with a further $200 from the Friends of Youth Bridge Fund, is presented each year to the Australian Youth Bridge Player whose ability, achievements, sportsmanship, attitude, contribution and commitment during the calendar year are most deserving Nico started this year with winning the Youth Teams and finishing 4th in the Australian Junior Teams Selection. Nico played in all 4 junior internationals in 2019 and worked hard with John McMahon to develop a top notch system that would work well against the world's best. Between world events, Nico went on to win the Youth teams at the ANC and came 4th in the VCC. Nico was always keen to take advice from top players to better his game. He also help with other youth players by giving advice and organising events throughout the year.
Helman-Klinger Masterpoint (Top Earner)
John McMahon: 155.14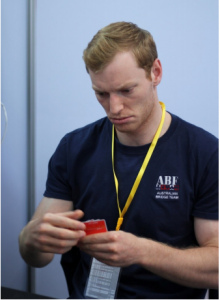 This award, worth $200 annually and supplemented with a further $100 from the Friends of Youth Bridge Fund, is awarded to the Australian Youth Player who earns the most masterpoints in the calendar year in question. John had good successes in Youth Week 2019, and the Summer Festival immediately after. He had great finishes in the Gold Coast, VCC and the GNOT. His major victory was the Youth ANC, where he captained the team, almost undefeated into the finals and won convincingly.
Hills-Hurley Trophy (Best Partnership)
Renee Cooper and Andrew Spooner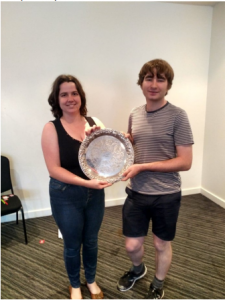 This trophy, donated by Richard Hills and Steve Hurley, is intended to encourage talented young bridge players to form long-standing partnerships and reward a successful pair who has developed a well-organised partnership to harness their full potential This partnership formed at the start of the year. Both players put in a lot of work in building their partnership. They were part of the Australian contingent at Sweden and Croatia and performed exceptionally.
Don't forget to follow us @