Source: 11th WORLD YOUTH BRIDGE TEAM CHAMPIONSHIPS Bangkok,Thailand
The first World Junior Teams Championship was held in Amsterdam, the Netherlands, July 12–18, 1987. Only five teams took part, though every WBF zone was entitled to send a team. The five were USA, Argentina, Indonesia and France, all zonal champions, plus the host nation, Netherlands. They played a double round robin to decide the two finalists, who then played an 80–board match to decide the title. As you will see, there were some pretty big names in those two teams. The Netherlands won the first round robin ahead of France and Argentina, and it was the same two at the top of the second round robin ahead of USA.
That produced this final qualifying table:
1 Netherlands 169.8
2 France 154.6
3 USA 101
4 Argentina 82.3
5 Indonesia 78.9
France gained a huge swing on this deal against Argentina, but the South Americans had an opportunity to almost flatten the board.
Board 16. Dealer West. E/W Vul.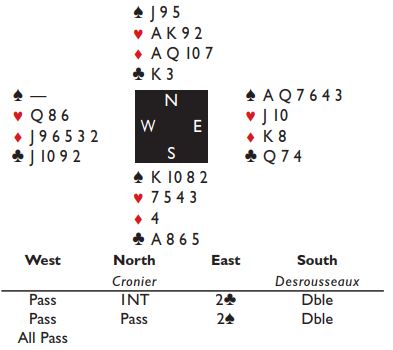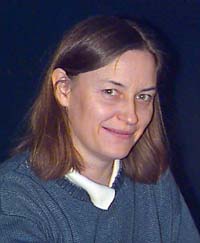 Benendicte Cronier opened 1NT and the Argentinian East showed a single–suited overcall. When Christian Desrousseaux doubled, perhaps West might have taken the opportunity to suggest playing in his long suit, but he failed to take that opportunity so East converted to his suit, promptly doubled again by Desrousseaux. A heart lead was won by the king and Cronier switched to king and another club to get her ruff. The ace of diamonds and a diamond ruff, the ace of hearts, and two trump tricks meant down four for –1100. There was even more action in the other room.

Hearing his opponents scrape into game and looking at a void in a relatively weak hand, suggesting that partner would have entries to give a second ruff, Franck Multon tried a speculative double of 4

. North redoubled, ending the auction, and Jean–Christophe Quantin started with ace and another spade for Multon to ruff. Declarer went up with the ace on the diamond switch and could have come to an overtrick by cashing the top trumps, scoring +1030 and losing just 2 IMPs. But he expected a bad trump break for the double so crossed to dummy with a diamond ruff and led a trump.When Multon followed with the eight, he finessed the nine, losing to the ten, and a second spade ruff put West in to lead a third diamond, promoting a trick for East's

J. That was two down for –600 and a massive 17 IMPs to France.