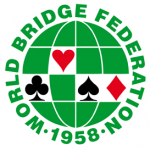 43rd World Bridge Teams Championships
Lyon, France • 12 – 26 August 2017
Running Scores 
Source: Bulletin 14
CHINA AND THE USA UNITED IN VICTORY


China powered their way to their second Venice Cup title (the previous victory coming in 2009) by forcing England to concede after five sessions of what turned out to be a one sided final.
Although Sweden lost three of the five sets against Poland they never gave up the lead they took in the first one to secure the bronze medals.
After a tremendous struggle USA 2 finally overcame the resistance of Italy in the final of the d'Orsi Trophy (the seventh time the title has gone to the USA) while Sweden powered past India to collect the bronze.
France and USA 2 have all to play for in what is proving to be a thrilling Bermuda Bowl final. The FunBridge Transnational Teams final will be between Mazurkiewicz, who defeated Percy and Jinshuo who squeezed past Zimmermann.