March 27 2019
16th BBO match Czech Republic – Finland
Czech Republic
Erik Klemš, Martin Melčák, Lukáš Kolek, Jakub Vojtík, Michael Botur & Lucie Kohutová
Finland
Maria Mylläri, Gabriella Ahlvik, Oskari Koivu & Hermanni Huhtamäki
These were David Burn comments at the start of the match:  this match is between 7th and 8th, the difference being that 7th qualifies for the KO stages and 8th misses out.  The Czech Republic need to win about 16-4 to overtake Finland,  19-20 IMPs or so.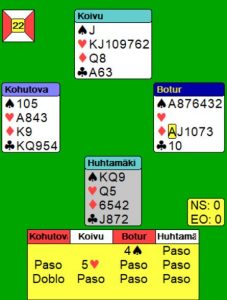 Board 22
After a 4

pre-emptive opening bid, Oskari Koivu (FNL) competed with 5

. Lucie Kohutová (CZE) doubled, four down that meant 5 IMPs for Czech R. when they made 4

 at the other table.
Board 24 generated many doubts to the commentators in BBO.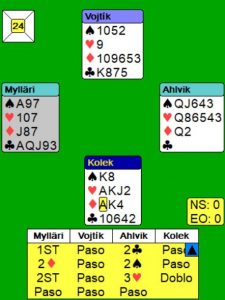 VG: Gabriella Ahlvik is giving this hand a thought or two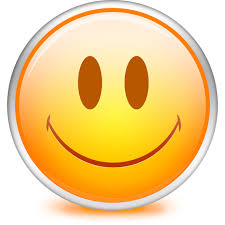 DBurn: not sure what she can show, let alone what she should show
DBurn: assume this is invitational with 4=5 majors
DBurn: hoping to get another chance, maybe,   which she will get, but it might not work out too well
After South's double…
DBurn: South wondering quite what is happening.
The end of the story was only 2 IMPs for Czech Rep. when they played 2

one down but not doubled.
This was D. Burn comment when board 25 hit the table:  here is a fair slam on not many values. And playing in the table the Czech R. couple (Lukáš Kolek, Jakub Vojtík) thought the same and arrived to the slam.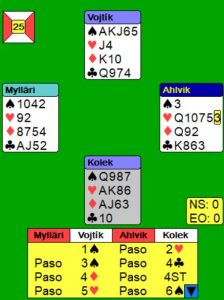 Board 25
Jakub Vojtík (CZE) opened 1

, Lukáš Kolek (CZE) answered 2

( is not a game force – invitational plus dit DBurn), North jumped to 3

( invitational, 6 losers, no shortness dit DBurn), the couple begun a cuebid sequence and after asking keycards declared the spade slam.
Declarer worked to ruff club losers in dummy to arrive to 12 tricks that gave his team 11 IMPs when at the other room Finland only played game.
Board 26 and board 27 were a push, and both teams arrived and made a slam in board 28. The last board was 1 IMP for Finland.
The match ended: Czech Republic 19 – Finland 1
And DBurn finished saying:  looks as though Finland survive by 0.02 VPs, but we may be wrong – everyone will be checking the results.