The 15th World Bridge Series in underway at the Orlando World Center Marriott.
WBF will broadcast a live show during the last match of the day, starting at 17.40 (Orlando time).
Follow us on WBFOfficial Youtube Page.
Running Scores
Open Teams – Women Teams – Senior Teams – Open Pairs – Women Pairs – Senior Pairs – Junior Pairs
Source: Bulletin 06
There were some desperately tight finishes to Wednesday's KO matches. In the Rosenblum Cup there were three single-digit margins: ALLFREY beat POLAND JUNIORS by 9 IMPs, SPECTOR beat TULIN by 2 IMPs, and TEXAN ACES defeated DIAMOND by 7 IMPs.
A string of former World Team Champions went out in the DIAMOND, NICKELL, ROBINSON, PSZCZOLA and TULIN teams.
The closest match in the Rand Cup saw WOLFSON beat LEWIS by just 2 IMPs in the all-American match. There were former World Champions in all four losing quarter-final teams.Two multi-national teams, MILNER and SILVERMAN will face off in one semi-final, while WOLFSON of USA will meet CHINA EVERTRUST in the other match.
Two of the four McConnell Cup quarter-finals were turned around in the fourth quarter, with SMITH and BARONI both coming from behind to defeat POLAND and WESTHEIMER respectively. As in the other two series, former World Champions were dropping like flies.The semi-finalists are all multi-national teams. SMITH will face APEROL, and BARONI will face BAKER.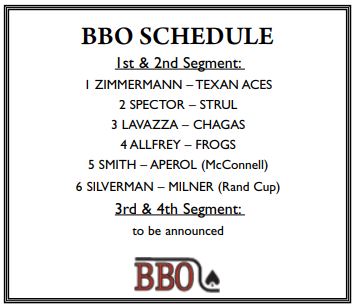 Youth Triathlon prize-giving
The prize-giving ceremony for the Youth World Triathlon will take place Today, 27th September in Grand Ballroom, Salon 4 after play concludes.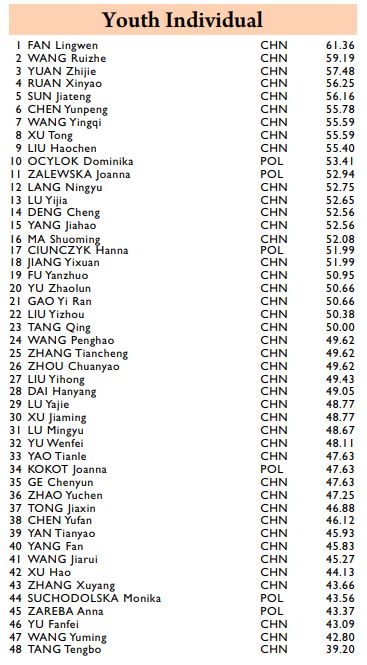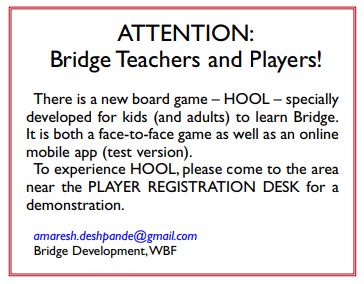 amaresh.deshpande@gmail.com
Bridge Development,WBF