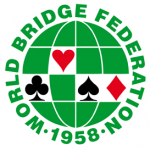 43rd World Bridge Teams Championships
Lyon, France • 12 – 26 August 2017
Running Scores 
August 23th
Source: Bulletin 12
CHASING THE RAINBOW
After 11 days the teams left standing face a simple equation: win one more match and become World Champions. The big six have reached their destination by different routes:
In the Bermuda Bowl France brushed New Zealand aside with ease while USA 2 had to work much harder to overcome Bulgaria.
In the Venice Cup England eventually overcame a strong Swedish fight back, while China proved too strong for Poland.
The d'Orsi Trophy saw USA 2 play a near perfect last set to get past Sweden while Italy was in cruise control against India.
Thursday's Programme:
BB,VC, OT: Finals & Play-Off
Funbridge Transnational
Quarter-finals
11:00 – 13:20
14:30 – 16:50
17:10 – 19:30
Grand Prix Ville de Lyon
Starting Time 10:00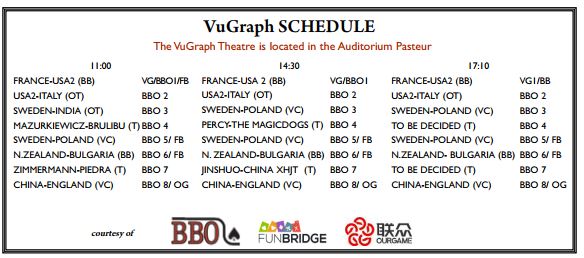 Semi-finals 
Juniors Gold Prize Giving