March 27 2019
12th BBO match Denmark-England
Denmark
Christian Lahrmann, Søren Bune, Andreas Plejdrup, Emil Buus Thomsen & NPC Claus Lund
England U26
Charles Bucknell, Dominic Price, Stephen Kennedy, Tony Ye, Ben Norton, Shahzaad Natt & NPC Andrew McIntosh
First swing was a 7 IMPs swing.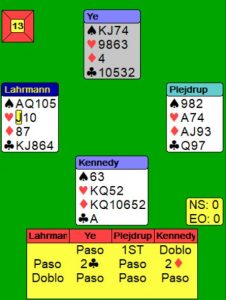 Board 3
After a pass Andreas Plejdrup (DNM) opened 1NT and Stephen Kennedy (ENG) doubled, after his partner's 2

, Kennedy mentioned his diamonds, and Christian Lahrmann's double closed the bidding. Declarer lose the heart ace, the diamond ace, two trumps and the ace of spade to score +180.
At the other table was played the same contract for one down, and 7 IMPs for England.
Board 14, produced 10 IMPs for Denmark when England choose to play a diamond game, one down and England stayed in 3NT done.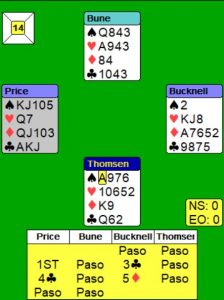 Board 14
After a 1NT opening bid when Price (ENG) found out the diamond suit in his partner's hand chose to play the game there. The 

A lead sealed the future of the contract. The two first tricks were the spade and heart aces and South wait peacefully with the 

K in his hand to defeat declarer.
At the other table an unbeatable 3NT was played and made and 10 IMPs for Denmark.
Board 15 returned 6 IMPs to England when they played 2NT done, where Denmark chose to play a NT game one down, and board 16 gave them another 5 IMPs when they made 3

where Denmark in the same contract was two down.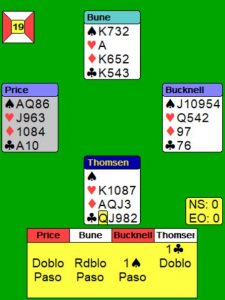 Board 19 added more IMPs to England's bag.
After a 1

opening bid , Price (ENG) doubled showing majors, Bune (ENG) redoubled and Bucknell (DNM) with 5 spades cards said 1

, Thomsen doubled and that was passed by his partner and all the other players at the table, two down was +500. At the other table Denmark played a 3NT contract made… producing  a new difference for England.
The match ended: England 27 – Denmark 14
Don't forget to follow us @